FORT WAYNE, INDIANA – Legacy Fort Wayne, a program of community investment started by Mayor Tom Henry, released its official recommendation for the initial use of up to $20 million in Legacy funds, naming the Headwaters Junction proposal as "big, bold, and transformative" and an idea that "should not be overlooked when developing a vision for our riverfront." Community officials submitted their recommendations to city council, which approved funding for a riverfront wide feasibility study in December.
Headwaters Junction is a mixed use gateway and downtown attraction concept combining river, rail, and trail development on what is known locally as the North River property and the surrounding areas. Key to the enterprise is city steam locomotive no. 765, at one time a city monument on display in Lawton Park that was restored to operation in 1979 after being preserved by the City of Fort Wayne in 1963.
Headwaters Junction proposes including the train, which experiences anywhere from 900-3,000 people a day when it operates, as part of an attraction with annual programming and events that include dinner and tourist trains operating between area attractions and on regional excursions. In addition, the proposal suggests construction of a multi-use interpretive center that includes park and green space, mixed use components, and a for-profit short line railroad that serves area businesses. The Junction would provide the the anchor to commercial, educational, and recreational actives near downtown, tying into river and trail development, and create the "vibrant, regional attraction" recommended by 2007's North River Now and 2005's BluePrint Plus community plans.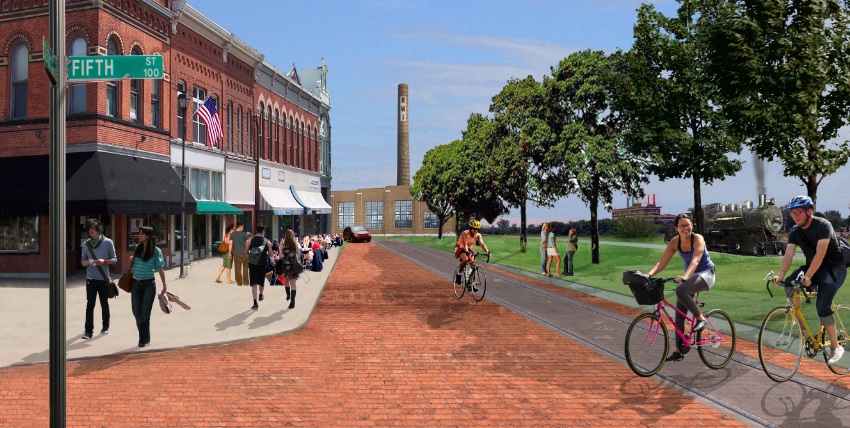 Headwaters Junction was introduced early in the Legacy Fort Wayne process, quickly becoming one of the top three ideas in public voting, and later became the only specific idea that met Legacy Fort Wayne's criteria of being supported by community plans, having a high level of community support, and having catalytic potential. Legacy's Riverfront Champion team later explored the idea in greater detail and as a result included it in the Comprehensive Riverfront Development Master Plan.
"This is a one-of-a-kind opportunity to leverage an incredible attraction that no other city has," explained Dan Wire, river advocate and Riverfront Champion Team member. "If we want to make downtown a destination, an actual train can take us there."
Recognized as a national historic landmark in 2000, Fort Wayne steam locomotive no. 765 presently operates in recreational train and public exhibition service throughout the midwest, bringing to life the dramatic history and culture of Fort Wayne to thousands every year. When not operating, it is stored in a workshop http://www.snortrescue.org/online-nolvadex east of New Haven.
Recently, the 765 experienced 50,000 people in just sixteen days, with ticket buyers from all 50 states and five countries. The 765 is gearing up for its second year operating for Norfolk Southern as part of the railroad's "21st Century Steam" program, which last year saw the train operate over 3,700 miles through six states.
Headwaters Junction has been endorsed by a variety of associations and civic organizations including Arts United, Fort Wayne Trails, Wells Street Historic Corridor and Business Association, Downtown Improvement District, and Chamber of Commerce. No. 765 is what TRAINS Magazine editor Jim Wrinn called Fort Wayne's "potential catalyst for tourism, an engine for economic development."
"It is by far the best proposal that any of us in have seen for North River," says Gretchen Johnson, president of the Bloomingdale Neighborhood Association, which encompasses the North River property and railroad right of way that would be reactivated as part of the plan.
The Fort Wayne Railroad Historical Society, Inc would provide no. 765 and its fleet of vintage trains, including other locomotives and passenger cars from the 1940s. Their volunteers would restore, operate, and interpret the collection. In the late 1990s, Headwaters Park architect Eric Kuhn was the first to suggest including the train in the original 220-acre riverfront plan.
"We had over 2,300 passengers on our Santa Train, which operates over a quarter mile of track in New Haven. We can only take 40 people at a time and are at capacity. What if we could do this downtown? The city would have its own Polar Express. Other railroad attractions experience anywhere from 17,000-200,000 visitors for these types of events," said Kelly Lynch, project manager for Headwaters Junction.
Headwaters Junction is designed to connect the Fort Wayne Children's Zoo, Science Central, Rivergreenway and Pufferbelly Trails, Harrison and Wells Street with a reactivated railway that can accommodate tourist trains or a streetcar. The 7-mile railroad line would swing south from Coliseum Boulevard, east along the river at Runnion Avenue, over Wells and Harrison Streets, north over 4th street and toward the Fort Wayne Children's Zoo and Fernhill Avenue.
"We've had response from all over the country about this idea, from potential donors to people who love the 765. The train is a proven draw and its success can be shared with the city that preserved it," said Lynch. "Shouldn't the 765's thousands of passengers and visitors be in our downtown?"
Learn more at www.headwatersjunction.com
Become a member here to support and experience the 765!