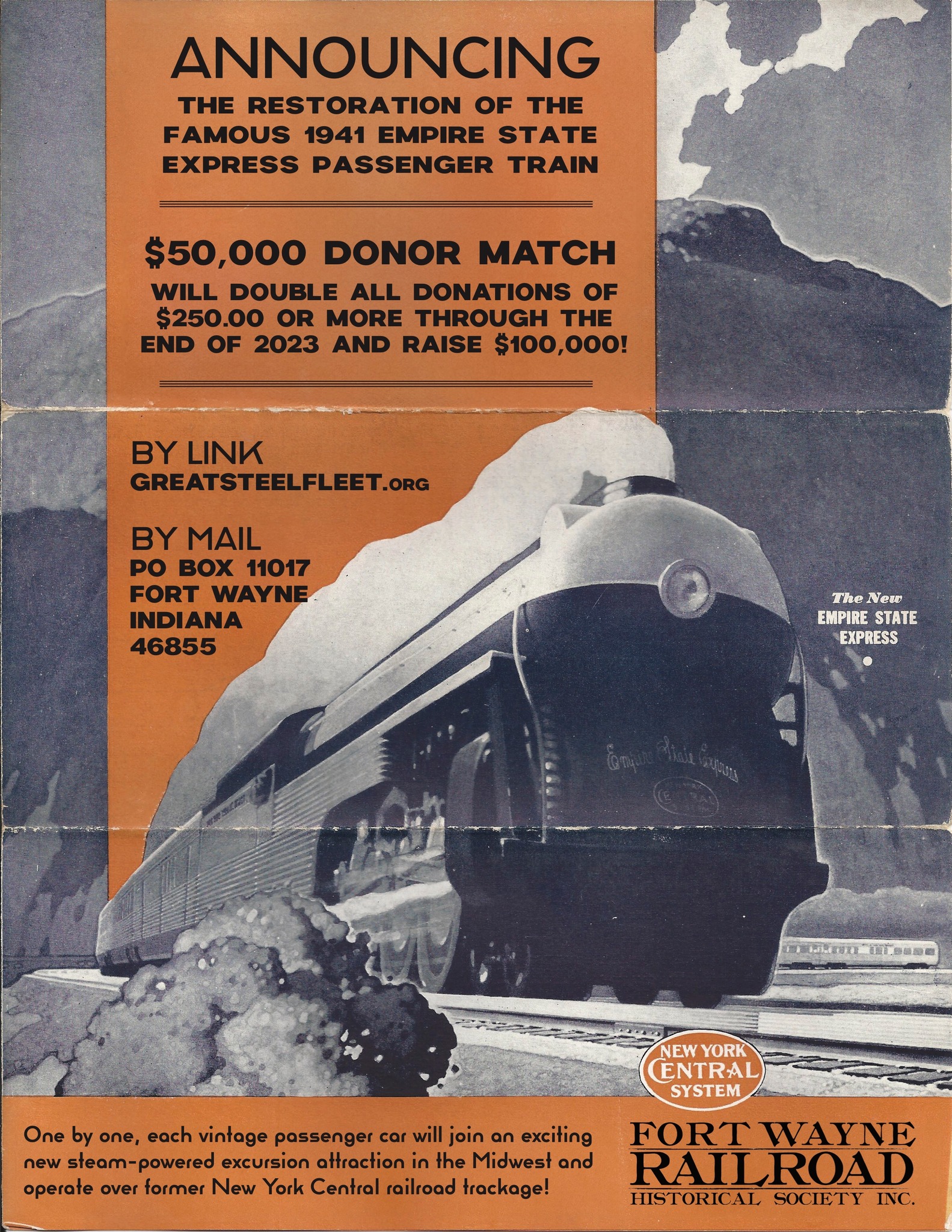 A famous 1940s-era passenger train is destined for restoration as part of a growing rail tourism attraction in the Midwest
NEW HAVEN, INDIANA – Following the acquisition of seven vintage New York Central Railroad passenger cars to support its railroad tourism program, the Fort Wayne Railroad Historical Society has announced a $50,000 grant will match all donations of $250.00 or more through the end of the year. Built in 1941, each car will require upwards of $160,000 or more in mechanical and electrical upgrades and general repair work, with the goal to place one car in service in the region next year. For more details or to donate, visit greatsteelfleet.org.
"These cars once belonged to one of the country's largest railroads and operated on one of its most famous trains. Each restored car will become a time machine that welcomes more visitors to our region, allowing us to preserve and showcase more of the country's incredible industrial heritage," explained Kelly Lynch, Vice President of the Fort Wayne Railroad. "With this generous matching grant, only 200 donors of $250.00 or more are needed to help us raise $100,000."
The Fort Wayne Railroad inaugurated the Indiana Rail Experience program in 2022, and in 2023 the train rides and excursions were named Indiana's Best New Experience by Visit Indiana. In its second year, the living history events – which include fall color trains, Christmas trains, a railroad camp for young adults, and wine, whiskey, and cigar trains – have hosted over 12,000 riders. Since 2022, events have continuously sold out.
Constructed for use on the Empire State Express, a flagship first-class passenger train of the New York Central, the cars will operate over former New York Central trackage in Indiana and Michigan. The fleet was purchased from the Rochester & Genesee Railroad Museum in 2022 and the cars arrived in Indiana in late summer.
Since 2022, the organization has raised over 1 million dollars to support a variety of rail preservation and tourism projects, including the Riding Mountain Park, a historic dome observation lounge car, and the New York Central depot in Pleasant Lake, Indiana. Fundraising for these projects continues.
In addition to contributions, the Fort Wayne Railroad welcomes new members and volunteers to assist on-site. For more information, visit fortwaynerailroad.org/volunteer.
FORT WAYNE RAILROAD HISTORICAL SOCIETY
For over 50 years, the Fort Wayne Railroad Historical Society has created unique and memorable experiences through its celebration of the Golden Age of Railroading – a special era of American transportation, innovation, and connectivity between the 1930s and 1950s. The Fort Wayne Railroad has operated historic steam locomotive Nickel Plate Road no. 765 extensively in public exhibition and passenger train excursion service and its events routinely welcome visitors from all 50 states and half a dozen countries. Its operations are made possible entirely through volunteers and funded by ticket sales, memberships, donations, grants, and sponsorships. For more information, visit fortwaynerailroad.org.
THE NEW YORK CENTRAL RAILROAD SYSTEM
Spanning more than 10,000 miles across 13 states and two Canadian provinces, the New York Central was one of the largest railroad systems in the east, connecting New York with Boston, Chicago, Montreal, Cincinnati, Indianapolis, and St. Louis. Today, many of its routes are now operated by Norfolk Southern and CSX Transportation, with Amtrak operating a number of passenger trains like the Lake Shore Limited and the Wolverine over former New York Central tracks. An earlier iteration of the Empire State Express was first operated in the late 1890s and famous for breaking a land speed record of 112.5 miles an hour on May 10th, 1893 with steam locomotive no. 999, which is now on display at Chicago's Museum of Science and Industry. For more information, visit nycshs.org.