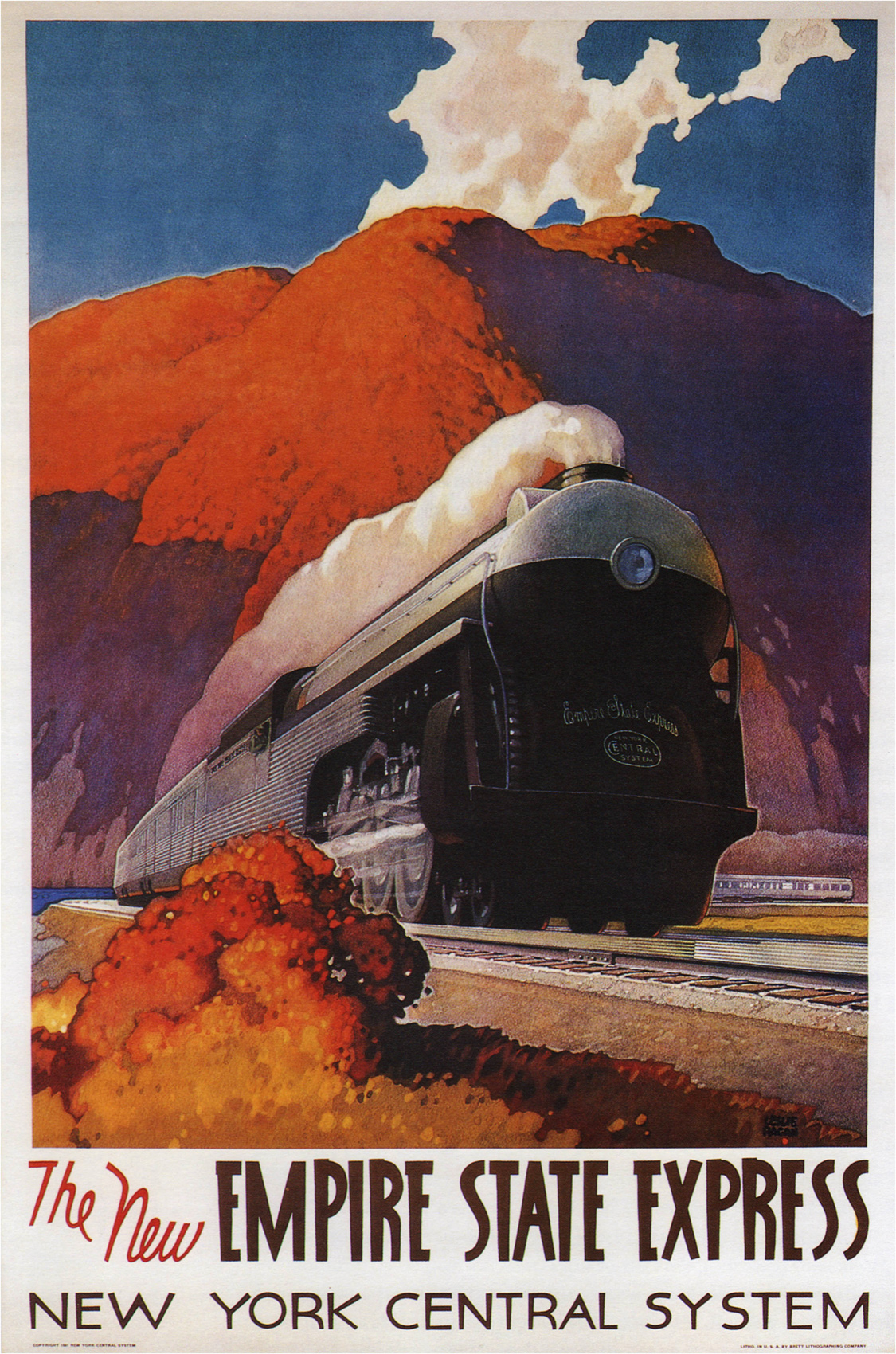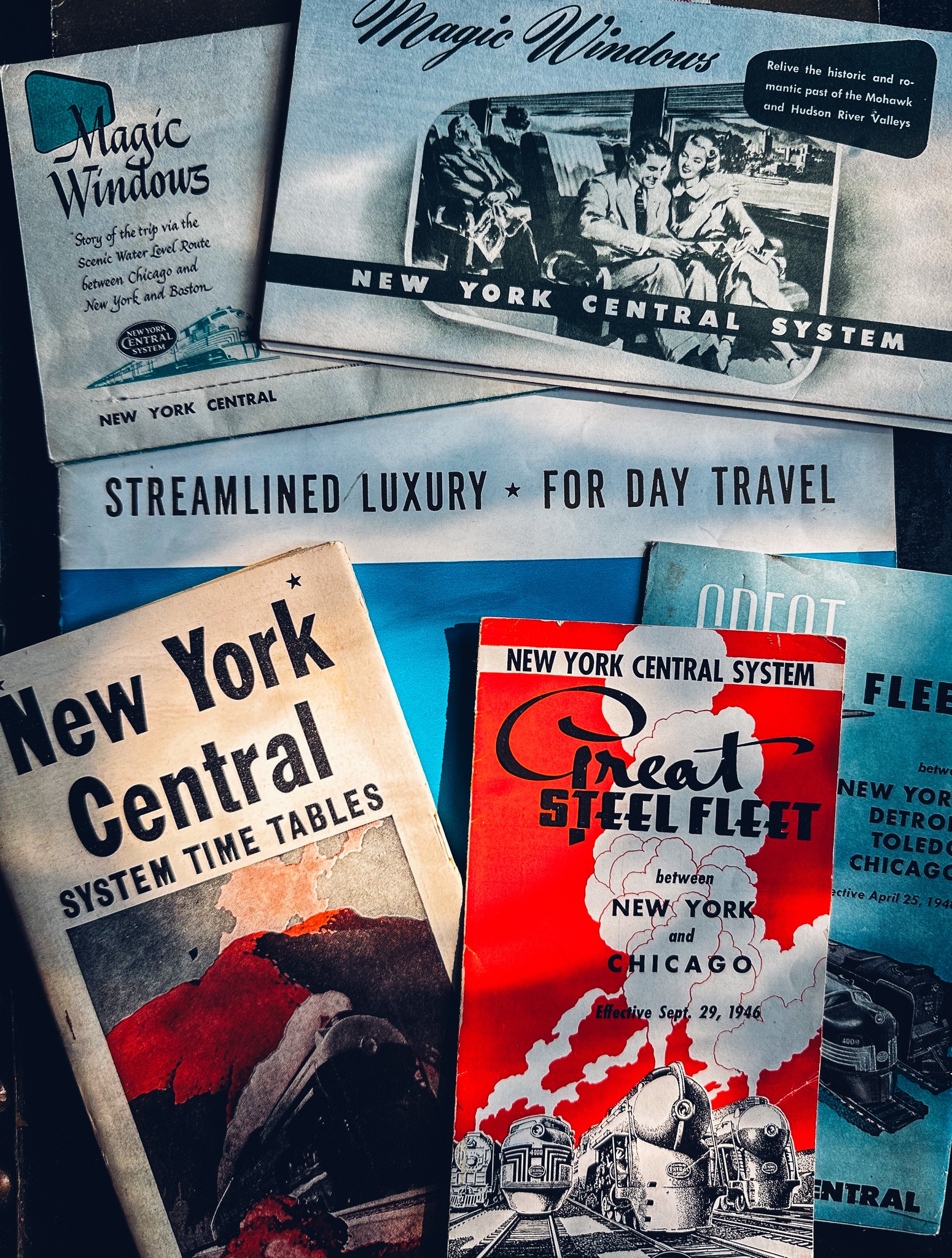 Seven New York Central cars from the streamliner era of passenger rail are destined for excursion service in Northeast Indiana
ROCHESTER, NEW YORK — As part of an ongoing investment in its new rail tourism program, the Fort Wayne Railroad Historical Society has acquired seven passenger cars from the Rochester & Genesee Valley Railroad Museum (RGVRM) in Rochester, New York. Once part of the New York Central Railroad's famous "Great Steel Fleet" of passenger trains, the collection is now destined to regularly appear behind restored steam and diesel locomotives from the 1940s and 50s.
Built in 1941 for use on the Empire State Express, a flagship first-class passenger train of the New York Central, the cars will operate over former New York Central trackage in Indiana and Michigan. Restoration of the fleet is estimated to cost over 1.2 million dollars, with plans to fund the work through donations, grants, and ongoing ticket sales over the next several ensuing years. The organization's first goal is to raise $160,000 in order to place one coach in service in 2024. A capital campaign has been launched at greatsteelfleet.org.
"This acquisition will ensure we have a dedicated fleet of our own equipment for both the Indiana Rail Experience and future steam excursions around the country and helps strengthen our business model," said Joe Knapke, President of the Fort Wayne Railroad. "Rochester's care and stewardship in preserving this equipment through the years means that the cars will be enjoyed by thousands of people every year."
The streamlined Empire State Express operated between New York City, Detroit, and Cleveland, and each of the preserved cars debuted in the inaugural run on December 7th, 1941 – only hours before the attack on Pearl Harbor. In later years, they were rebuilt for commuter service. Six cars from the fleet were acquired by the Rochester Chapter of the National Railway Historical Society in 1987 and made part of their growing museum collection where it was later joined by a railway post office car to complete the set. Refurbished by volunteers, the cars were used for a series of seasonal fall foliage excursions operated in the region through the 1990s and early 2000s, with the most recent trip taking place in 2019.
"These cars were state of the art when introduced and are beautiful examples of innovative, stainless steel construction during a period of optimism and investment in passenger rail," said Otto Vondrak, president of RGVRM. "These lightweight, stainless steel cars set the standard for a generation of the traveling public. The Budd Company built these cars to last and they are destined for a bright future," detailed Vondrak.
Over the next several years, the cars will undergo modernization of their mechanical, heating, and electric systems and additional work will update restrooms and seating. Two cars are likely candidates for conversion into first-class cars dining or parlor cars inspired by the New York Central's original designs. The acquisition of the equipment was partially funded by a grant from the David A. Donoho Trust and the Central Indiana Foundation.
"Not many organizations have the resources to acquire, maintain, and operate a full seven-car passenger train, let alone one single car," Vondrak said. "After a long career in preservation, RGVRM determined this train to be surplus to the museum's collection. I'm proud of our museum's accomplishments in preserving this historic train set, and our members are excited for its future. We can't wait to see this classic streamliner operate with a powerful steam engine across the farmlands of the Midwest as they first did 82 years ago."
Since the 1980s, the Fort Wayne Railroad has operated passenger excursions and public exhibition trains with restored Nickel Plate Road steam locomotive no. 765, often leasing privately owned passenger cars in order to accommodate the general public and make excursions financially viable. Since 2022, the organization has purchased two former Pennsylvania Railroad coaches, completed the restoration of a dining car and open-air car, converted a former baggage car into a power car to provide electricity for its trains, and also acquired an unrestored Canadian Pacific dome-observation-lounge car.
"With rising costs, limited availability, and logistical constraints, leasing even the best cars can make or break this business," detailed Kelly Lynch, Vice President of the Fort Wayne Railroad. "We've gone from having no operating cars to a growing fleet in less than two years. As the Empire cars enter service over time, they will greatly expand our train sizes, capacity, and variety of trips, which means donations toward restoring our fleet can double and triple the impact our trains have."
The Fort Wayne Railroad also recently purchased a former New York Central depot in Pleasant Lake, Indiana to support the Indiana Rail Experience, an ongoing partnership between the non-profit and the Indiana Northeastern Railroad Company, a privately-owned 100-mile short line railroad. Earlier this year, the program was named Indiana's Best New Experience by the State Tourism Bureau for its impact on the region.
"In addition to boosting the local economy, we are planting the seeds for an immersive, linear cultural experience, where the passenger cars, stations, and locomotives are all from the same era, if not from the very same historic railroad," said Lynch. "There are compelling models throughout the world that demonstrate how a tourist railroad can create an enduring sense of place and improve an area's quality of life, and the Indiana Rail Experience hopes to build on these great examples and our own accomplishments so far."
The acquired equipment is as follows:
New York Central Railway Post Office Car 5021 – Alonzo B. Cornell
New York Central 2566
New York Central 2567
New York Central 2568
New York Central 2571 – Hamilton Fish
New York Central 2572 – David B. Hill
New York Central 2578 – Charles Whitman
ABOUT
FORT WAYNE RAILROAD HISTORICAL SOCIETY
For over 50 years, the Fort Wayne Railroad Historical Society has created unique and memorable experiences through its celebration of the Golden Age of Railroading – a special era of American transportation, innovation, and connectivity between the 1930s and 1950s. The Fort Wayne Railroad has operated historic steam locomotive Nickel Plate Road no. 765 extensively in public exhibition and passenger train excursion service and its events routinely welcome visitors from all 50 states and half a dozen countries. Its operations are made possible entirely through volunteers and funded by ticket sales, memberships, donations, grants, and sponsorships. For more information, visit fortwaynerailroad.org.
ROCHESTER & GENESEE VALLEY RAILROAD MUSEUM
Tracing its roots back to 1937, the Rochester & Genesee Valley Railroad Museum was established in 1971 in the old Erie Railroad depot in Rush, New York, just 12 miles south of downtown Rochester. Since that time, it has grown into the largest operating railroad museum in New York state, with more than 40 pieces of historic railroad equipment in its collection spanning generations of railroad technology and showcasing Rochester's rich railroading heritage. For more information, visit rgvrrm.org.
INDIANA NORTHEASTERN RAILROAD
A family-owned company, the Indiana Northeastern Railroad began operations in December 1992 on nearly 130 miles of track in southern lower Michigan, northeast Indiana and northwest Ohio. The Indiana Rail Experience operates seasonal excursions over the tracks of the Indiana Northeastern, including the Wabash Railroad, New York Central's former Fort Wayne & Jackson line and the Lake Shore & Michigan Southern Railway. Six New York Central stations remain on the line. For more information, visit inerailroad.com.
THE NEW YORK CENTRAL RAILROAD SYSTEM
Spanning more than 10,000 miles across 13 states and two Canadian provinces, the New York Central was one of the largest railroad systems in the east, connecting New York with Boston, Chicago, Montreal, Cincinnati, Indianapolis, and St. Louis. Today, many of its routes are now operated by Norfolk Southern and CSX Transportation, with Amtrak operating a number of passenger trains like the Lake Shore Limited and the Wolverine over former New York Central tracks. An earlier iteration of the Empire State Express was first operated in the late 1890s and famous for breaking a land speed record of 112.5 miles an hour on May 10th, 1893 with steam locomotive no. 999, which is now on display at Chicago's Museum of Science and Industry. For more information, visit nycshs.org.