The Joliet Rocket returns!
For the second year in a row, journey to an exceptional private event in downtown Chicago behind a 1940s steam locomotive on a first class passenger train! These four-hour roundtrip excursions will depart Joliet for LaSalle Street Station on September 15th and 16th. Book your ticket online or by phone at 1-888-718-4253.

ROUNDTRIP EXCURSIONS BETWEEN JOLIET, ILLINOIS AND CHICAGO
SEPTEMBER 15th
8:45AM DEPART JOLIET - 2:15PM ARRIVE JOLIET (SOLD OUT)
3:30PM DEPART JOLIET - 9:00PM ARRIVE JOLIET (SOLD OUT)

SEPTEMBER 16th
7:45AM DEPART JOLIET - 12:30PM ARRIVE JOLIET
1:30PM DEPART JOLIET - 6:15PM ARRIVE JOLIET (SOLD OUT)

DEPARTING
Joliet Transportation Center
1 North Eastern Avenue
Joliet, IL 60432 United States
TIME UNTIL THE JOLIET ROCKET
TICKET PRICES & ACCOMMODATIONS
DELUXE COACH
$139.00
Seating in deluxe coach with reclining chairs

Open vestibules

Includes appetizers & drinks

Children 3 and under do not require a ticket
OPEN AIR CAR – SOLD OUT
$200.00
Standing room only in an open-air, four-door baggage car

Limited to 25 tickets per trip

Complimentary photo

Includes appetizers & drinks
FIRST CLASS
$189.00
Lounge style accommodations

Open vestibules

Complimentary photo

Includes appetizers & drinks

First Class Suite seats four passengers, First Class Berth seats two
DOME CLASS
$249.00
Seating in upper dome level

Open vestibules

Complimentary photo

Includes appetizers & drinks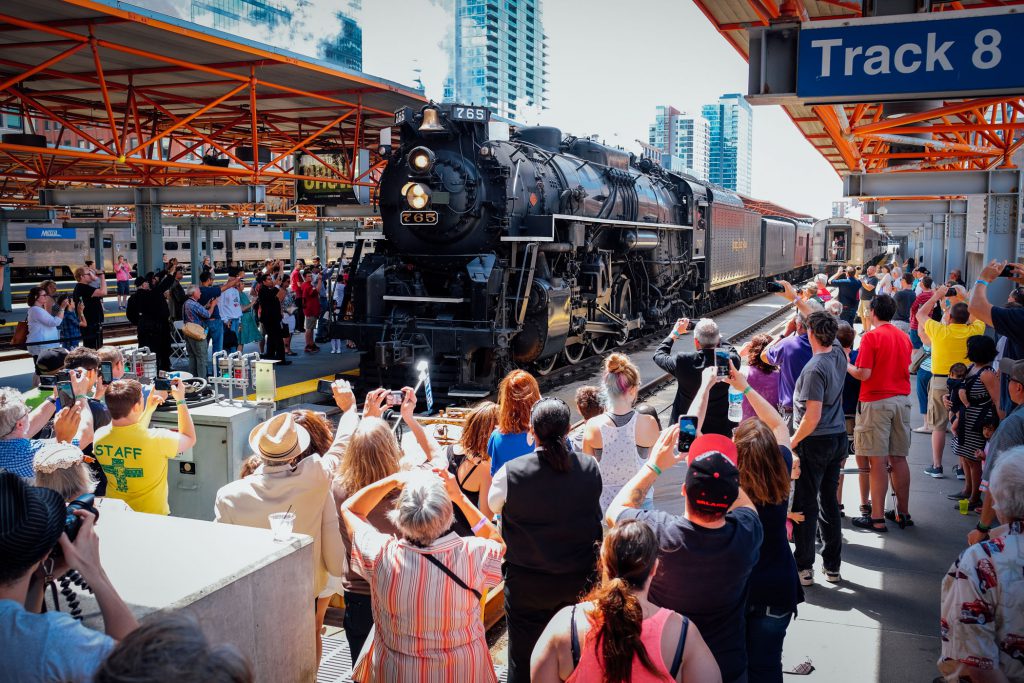 RAILFAN PASS
$75.00
Entrance to the event at LaSalle Street

For non-passengers only

Includes appetizers only

Limited availability
Our Next Trip
The Joliet Rocket
The Joliet Rocket will depart the Joliet Transportation Center and spirit passengers to a private event at LaSalle Street Station in downtown Chicago. These four-and-a-half-hour roundtrips will feature a variety of opportunities for passengers to see and hear the excitement of a 1940s steam locomotive as a part of their trip!
During the approximately two-hour layover, the platforms and pavilion will be transformed into an exclusive, vintage-themed occasion at LaSalle Street Station for passengers. We encourage guests to dress for the occasion in their best 1940s or 50s look.
"The Rock Island Line is a mighty fine road..."
Trips will feature...
• Locomotive no. 765 under steam
• Locomotive cab tours
• Live music and entertainment
• Craft cocktails and Appetizers
• Portraits by Matthew Malkiewicz
• Photo opportunities
• Historical reenactors
• Prizes for best dressed passengers
CUSTOMER REVIEWS
"I wanted to express my appreciation for the experience of a lifetime on the Joliet Rocket today. People were excited, pleasant, courteous and helpful. The entire outing was so well planned. Please consider running this route more frequently!"

Elizabeth R.

2017 Joliet Rocket passenger
"We rode the Sunday evening trip and had a wonderful time. You guys proved yourself a first rate outfit. The Joliet Rocket was the perfect trip for fans and those casually interested in trains."

Dale C.

2017 Joliet Rocket passenger
"We took the Sunday morning trip. Flawless! Thank everyone on board for their hard work. You knocked it out of the park."

John T.

2017 Joliet Rocket passenger
"Food and staff were great, volunteer staff was friendly, train was clean, my Dad and I had a great time on The Joliet Rocket. "

Rob G.

2017 Joliet Rocket passenger
RECENT NEWS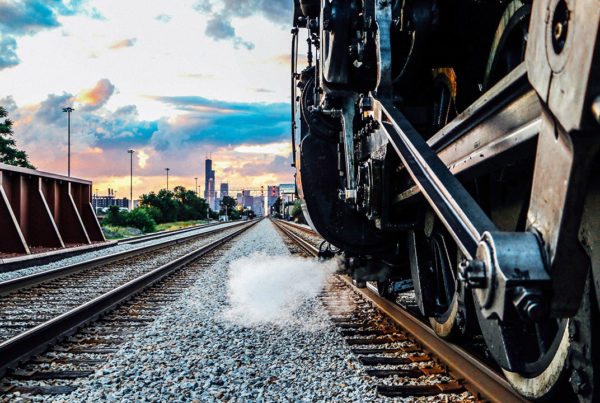 The Fort Wayne Railroad Historical Society is pleased to announce that ticket sales for The Joliet Rocket trips will begin at 6PM on May 9th for the general public and…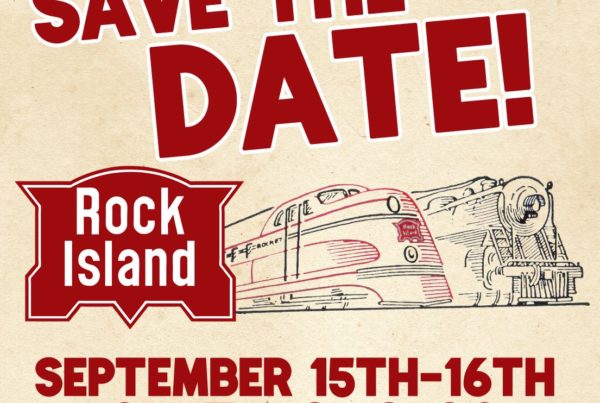 "Baby, don't you want to go?" The time machine returns to Chicago! On September 15th and 16th, climb aboard for another trip on The Joliet Rocket! (more…)
The Greatest Railroad City on Earth
LaSalle Street Station
LaSalle Street Station was originally the main terminal for the New York Central Railroad from 1908 to 1968. It hosted other railroads such as the Rock Island Line, which operated the original fleet of premiere "Rocket trains," and the Nickel Plate Road. The phrase "red carpet treatment" originated from the service provided by the New York Central's 20th Century Limited, where a red carpet was laid out on the platform for passengers.
Though the station's original head house was demolished in 1981, the platforms continue to serve trains from Metra's Rock Island District. The return of the Rocket marks the second steam excursion into the station since 1973 - the most recent being our 2017 trips with the 765!
Listen for the whistle...
Nickel Plate Road no. 765
This is our 400-ton time machine. Built in 1944, retired in 1958 and saved from a city park display in 1974, the 765 is one of only a handful of steam locomotives still operating in the United States.
Originally restored to operation in 1979 and completely rebuilt in 2005, the locomotive stands 15 feet tall, weighs 404 tons, and goes over 60 miles an hour. Celebrated for pulling passenger excursions throughout the country to the delight of millions, the 765 is the pride of the Fort Wayne Railroad Historical Society.
BOARDING
Boarding for The Joliet Rocket will be held approximately 30 minutes before departure time. Boarding is not at historic Union Station.
Joliet Transportation Center
1 North Eastern Avenue
Joliet, IL 60432 United States
FREQUENTLY ASKED QUESTIONS
We believe in passionately recreating the era when railroading was the preferred method of travel. This is a sensory experience – from the classes offered, food served and the locomotive pulling the train.
Regardless of your background or interest, riding aboard a historic train can be an exciting and memorable experience. You'll have the opportunity to meet hundreds of new people, see towns, cities, and the countryside from a new perspective, and enjoy the sights and sounds of steam locomotive no. 765. We commonly hear that passengers "feel like rock stars" on our trains as hundreds of waves are exchanged between those aboard and people trackside.
Passengers can enjoy standard accommodations in coach and deluxe coach classes, or opt for a special experience aboard first class and dome passenger cars straight out of the 1940s and 50s. Please check the details for your individual tickets and trips and don't forget to visit our merchandise table or car!
Passengers and their ticket purchase directly support the continued maintenance, preservation, and operation of no. 765 and our vintage train sets.
Our excursions are memorable outings, but there are key items to keep in mind:
Wear sturdy, comfortable shoes (no sandals, flip fops or open toed shoes.)
Expect a train on any track, at any time in any direction.
Do not walk on the rail head.
765 is a coal-burning locomotive and often produces cinders that fly through the air and can be dangerous to the eyes. You must wear safety glasses if riding in an open vestibule.
Due to the special, one-time nature of these events, our scheduled times are not guaranteed and can be affected by freight or passenger traffic or other logistics.
All trains run rain or shine.
Nearly every car has its own restroom facility. In the event that a car does not have an operational restroom, the next car ahead or behind you will.
Yes. All cars are climate controlled.
No. Car attendants will make every attempt to seat parties together. Groups riding together are encouraged to purchase their tickets and board together. Your ticket may be assigned with a car name or number at the time of purchase or before travel.
There's nothing we love more than powering a passenger train over the road without a modern diesel locomotive in the consist, but for this particular operation, the 765 will lead (northbound) into LaSalle Street and a Metra diesel will pull the passenger train and the 765 back (southbound) to Joliet.
Why? There's no adequate way to turn the train in a logistically feasible manner for these trips. While 765 could easily handle just about any train on its own, we can't say we mind the help from our friend the diesel.
On the northbound trip, expect the 765 to charge along at speeds between 60 and 70MPH! After all that work, the fireman probably deserves a break…
Yes. Each excursion returns to Joliet later the same day.
We understand that not everyone can ride, so the Railfan Pass is a way for people to support our operations and join us for the event at LaSalle Street Station. The layover and amenities are already included in your ticket, so if you're a passenger, you don't need a pass. The Railfan Pass is also a great way to show your support of the 765 from afar – even if you won't be around. You may be rewarded with some swag…