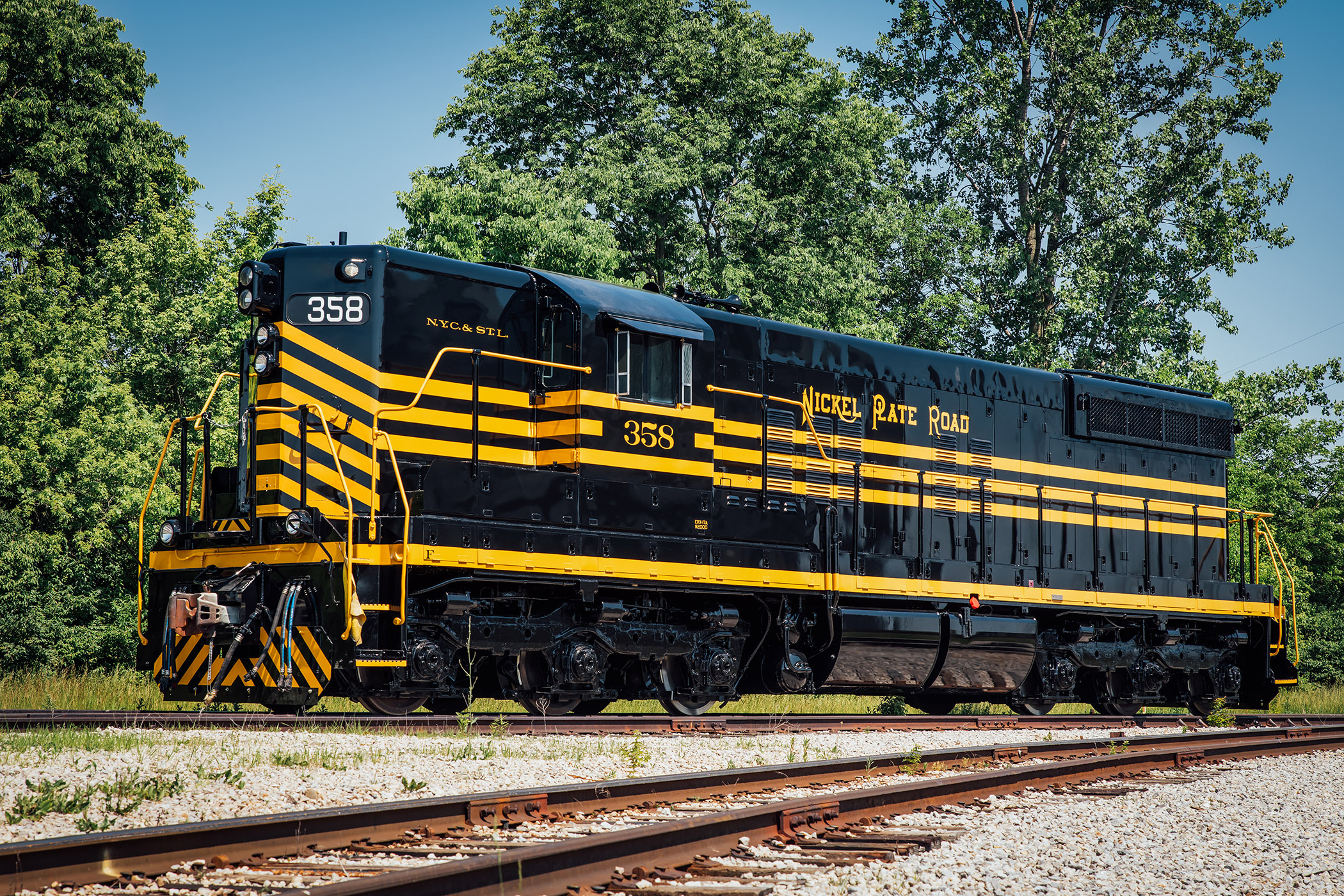 The restoration of a 1950s railroad locomotive has been invigorated by a collaboration with Progress Rail, a Caterpillar company.

MUNCIE, IND – The mechanical overhaul of Nickel Plate Road diesel locomotive no. 358 has entered a dramatic new phase as Progress Rail has transformed it to its as-built 1957 appearance. After six years of work, the volunteers and donors of the Fort Wayne Railroad Historical Society will soon return this 50's-era icon to the rails again.
Donated by Norfolk Southern to the Fort Wayne Railroad in 2010, the 358 has undergone an extensive restoration. It will soon become an operating rail attraction, complementing the non-profit's preservation efforts and expanding tourism events in the Northeast Indiana region. Donations to help complete the restoration can be made at fortwaynerailroad.org/donate.
"It has been emotional for us to watch this machine transform from a derelict state to a museum-quality showpiece. Progress Rail's support has been critical throughout the overhaul, and their commitment to making the locomotive look just as it did when it was built by Electro-Motive has our heartfelt gratitude," said W.D. Miller, Project Manager. "While our organization is known for operating a 1940s-era Nickel Plate steam locomotive, there is an entire generation of Americans who remember the enduring presence of these types of diesel-electric engines operating throughout the country."
Progress Rail continues the tradition of EMD® locomotive manufacturing and maintains an assembly plant in central Indiana, where company employees consulted the original diagrams and restored the locomotive to its original Nickel Plate Road livery.
"This project is a tribute to the design, durability, and quality of EMD locomotives," commented Art Erbacher, senior vice president of Progress Rail. "Supporting an effort like this is part of what makes working in the rail industry so rewarding."
"Being involved in this project has boosted morale within our team," added Jose Ruy Sanchez, locomotive operations director at Progress Rail in Muncie. "We are excited to see the finalized unit and tell our family and friends we were part of the restoration. At Progress Rail, we are proud to be part of an industry that connects people and communities, and we are looking forward to crossing paths with this locomotive in the future."
No. 358 was one of twenty diesel locomotives built to replace the Nickel Plate Road's steam engine fleet, which included Nickel Plate Road Berkshire-type steam locomotive no. 765, which the Fort Wayne Railroad has restored, owned, and operated since the 1970s. Designated as "Special Duty" locomotives, the SD9-type locomotive helped end the era of steam power thanks to their reduced maintenance costs. The 358 went on to serve Norfolk & Western and Norfolk Southern for decades before it was retired. The 358 will be the only operational Nickel Plate SD9 to look as it did when new and the only one to operate in rail tourism service.
"It's rare to have operating examples of two dramatically different locomotives from the same railroad company, and together they'll help us tell the story of railroad technology throughout the last 80 years," explained Miller.
More than 12,000 volunteer hours went into the 358's restoration. The work was also supported by over $100,000 in financial and in-kind contributions. In addition to Progress Rail and its employees, supporters have included Steel Dynamics, Wheeling & Lake Erie Railway, Nickel Plate Railroad Historical & Technical Society, Mad River & NKP Railroad Museum, Illinois Railway Museum, Crown Battery, Horizon Rail, and numerous private individuals with locomotive expertise. Upon its departure from Progress Rail, the 358 will be shipped to the Indiana Northeastern Railroad Company's locomotive shop in Hudson, Indiana, where final restoration work will be completed.
"We still have electrical work to do, but we are 90% there. Once the 358 is completed, tested, and broken in, we plan to operate it as part of the Indiana Rail Experience on passenger excursions, at commemorative events, and for guest engineer programs," added Miller. "Some of our youngest volunteers have grown up learning to work on the 358, and now a new generation will have their first experience with railroading thanks to the 358 and our supporters."
About the Fort Wayne Railroad Historical Society:
For over 50 years, the Fort Wayne Railroad Historical Society has created unique and memorable experiences through its celebration of the Golden Age of Railroading – a special era of American transportation, innovation, and connectivity between the 1930s and 1950s. The Fort Wayne Railroad has operated historic steam locomotive Nickel Plate Road no. 765 extensively in public exhibition and passenger train excursion service and its events routinely welcome visitors from all 50 states and half a dozen countries. Its operations are made possible entirely through volunteers and funded by ticket sales, memberships, donations, grants, and sponsorships. For more information, visit fortwaynerailroad.org.
About Progress Rail:
Progress Rail, a Caterpillar company, is one of the largest integrated and diversified providers of rolling stock and infrastructure solutions and technologies for global rail customers. Progress Rail delivers advanced EMD locomotives and engines, railcars, trackwork, fasteners, signaling, rail welding and Kershaw Maintenance-of-Way equipment, along with dedicated locomotive and freight car repair services, aftermarket parts support and recycling operations. The company also offers advanced rail technologies, including data acquisition and asset protection equipment. Progress Rail's deep industry expertise, together with the support of Caterpillar, ensures a commitment to quality through innovative solutions for the rail industry. Progress Rail has a network of nearly 200 locations across the United States, Canada, Mexico, Brazil, Germany, Italy, Australia, China, India, South Africa, the United Arab Emirates and the United Kingdom. For more information, visit progressrail.com and follow @Progress_Rail on Twitter, YouTube, LinkedIn and Facebook.