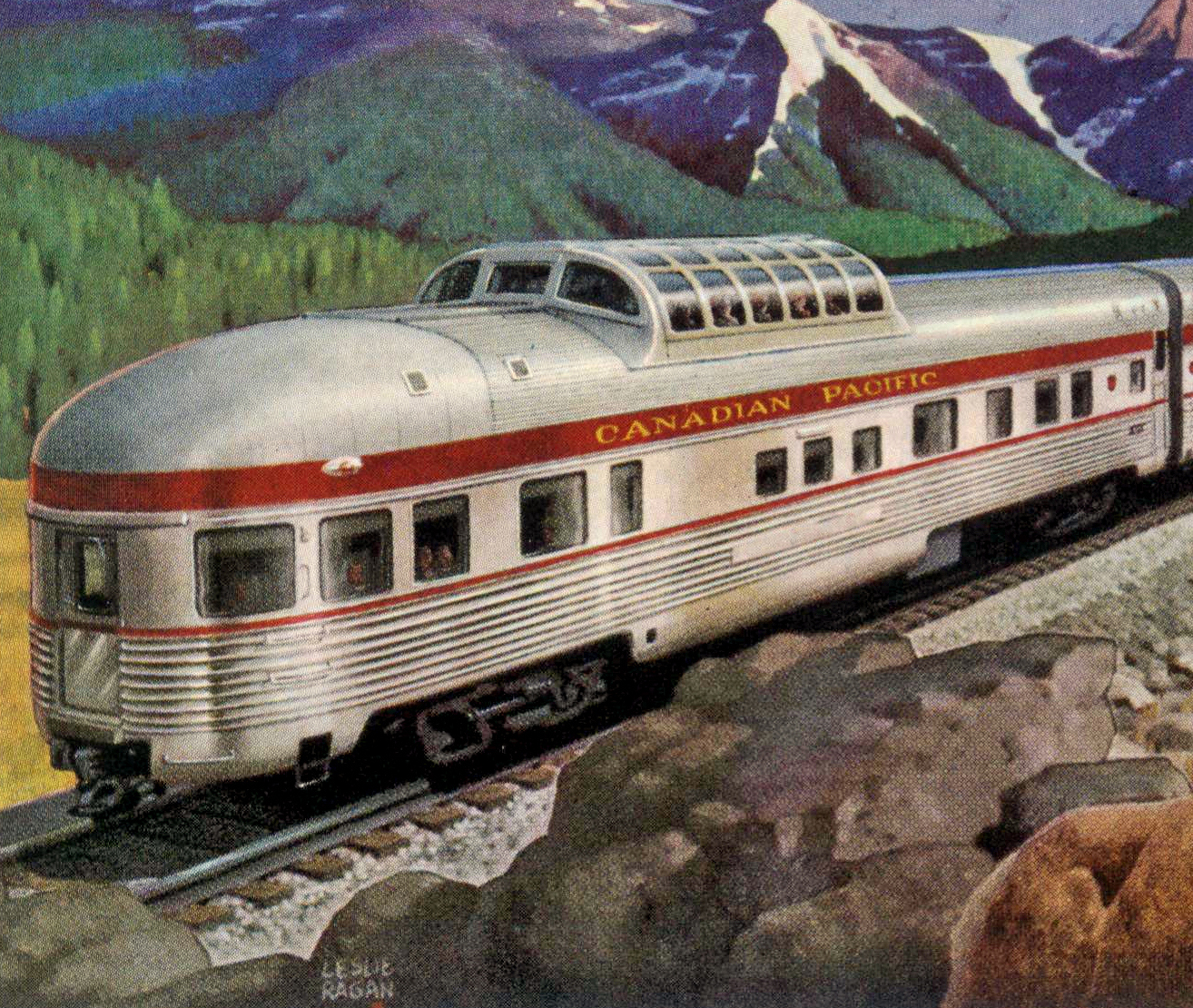 The Fort Wayne Railroad Historical Society has acquired the Riding Mountain Park, a vintage streamlined dome-lounge-observation car built in 1954 for transcontinental passenger train service on the Canadian Pacific. The acquisition was made possible by a private donor.
Plans call for the car to undergo a significant multi-year mechanical overhaul that will update its electrical and HVAC systems and interior furnishings at a cost of approximately $500,000. Donations can be made online at fortwaynerailroad.org or by mail.
"Most first-class trains of the 1940s and 1950s featured a dome car, lounge car, or an observation car. With Riding Mountain Park our future guests will be able to enjoy all three and we are overjoyed at the opportunity to preserve this experience," stated Wayne York, Senior Excursion Manager. "Its acquisition is a special way to end our 50th Anniversary and mark the beginning of a new chapter."
Named for the Riding Mountain National Park in Manitoba, Canada, the car's design was partially inspired by the California Zephyr's stainless steel passenger cars in the United States. The Riding Mountain Park was once part of "The Canadian," a first-class passenger train that operated between Montreal, Toronto, and Vancouver and was one of eighteen such Park-series cars.
Deemed surplus by Via Rail Canada, the successor to Canada's passenger rail service, and later sold into private ownership in 2005, the Riding Mountain Park has been in storage for over ten years at the Adrian & Blissfield Rail Road Company in Blissfield, Michigan. It largely retains its original interior and artwork created by members of the Royal Canadian Academy of Arts. All Park-series cars were described in 1954 as being the "feature car of each train."
Pending restoration, the car will enter service as part of the Indiana Rail Experience, a new rail tourism program operating on the Indiana Northeastern Railroad in Western Ohio, Northeast Indiana, and Southeast Michigan over former Wabash Railroad and New York Central trackage. In 2022, the Indiana Rail Experience welcomed over 6,000 guests from 35 states and three countries in just ten days of operation. Events and excursions in 2023 will feature historic Nickel Plate Road steam locomotive no. 765, and other vintage locomotives and historic passenger cars.
Earlier this year, the Fort Wayne Railroad purchased the Collinsville Inn and Franklin Inn, two 1950s-era Pennsylvania Railroad passenger coaches, from the DC Chapter of the National Railway Historical Society and completed the renovation of former California Zephyr and Amtrak dining car Silver Diner, as well as completed the conversion of a former Santa Fe baggage car now named the John H. Emery.
While dome cars were not especially common in the Midwest, the Riding Mountain Park bears similarity to the Wabash Railroad's stainless steel "Domeliner" and its lounge class and observation end were popular features on the New York Central's first-class passenger trains which operated through nearby Waterloo, Indiana and Hillsdale, Michigan.
The Fort Wayne Railroad would like to thank Chris Bagwell, Adrian & Blissfield Rail Road Company, Steam Railroading Institute, Horizon Rail, AMC Rail, and Mid America Railcar Leasing for their assistance.
ABOUT THE FORT WAYNE RAILROAD HISTORICAL SOCIETY, INC.
For 50 years, the Fort Wayne Railroad Historical Society has offered remarkable and inspiring experiences through the preservation, restoration, and operation of historic railroad equipment and artifacts significant to Northeast Indiana. An all-volunteer, award-winning, and safety-driven non-profit organization, it has operated Nickel Plate Road no. 765 for over 100,000 miles in public exhibition and passenger train excursion service and routinely welcomes visitors from all 50 states and half a dozen countries. As a part of its role in the rail tourism industry, Fort Wayne continues to restore and exhibit other historic steam and diesel locomotives, freight cars, and passenger cars from the Golden Age of Railroading, all of which are used to celebrate and preserve the area's cultural and industrial heritage. Fort Wayne's operations are funded by ticket sales, memberships, donations, grants, and sponsorships.