Submitted by Wayne York & Chris Homco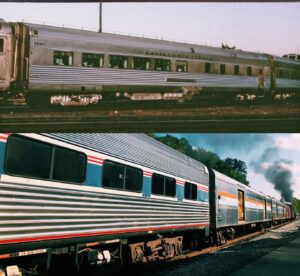 It is DINING CAR DECEMBER! We're asking for your help to raise $6,000 for repair and restoration work for our genuine California Zephyr dining car, "Silver Diner." Our volunteers have been hard at work refurbishing the car's interior and working on its electrical system. Total repairs are estimated at $12,000 to get the car in service on our passenger excursion trains! You can show your support here: fortwaynerailroad.org/donate. The Silver Diner served as one of six dining cars for the Zephyr.
Remember you can always give your most valuable asset, your time. Work is continuing in earnest on a regular basis. If you are at all interested in learning more or getting involved contact Wayne York or Bill Otter.
Built in 1948 by the Budd Company, the Silver Diner was a quintessential California Zephyr car. In 1971 Amtrak picked up the car after the discontinuation of the join effort California Zephyr trains. Amtrak used the car regularly until 2017. After its retirement Fort Wayne Railroad Historical Society (FWRHS) picked the car up from Amtrak's shops at Beech Grove (Indianapolis).
In its current configuration it has booth seating for 40, a ten-foot buffet counter, and a fully functional kitchen. While FWRHS does not intend to get into the dining car business it is possible the car will serve as a diner for a catered event or train. Currently efforts are underway and progressing well to get the car back in service as a lounge car by 2022.
Efforts so far have seen the complete electrical inspected and brought back into service, the kitchen and appliances cleaned and tested, the HVAC inspected and awaiting appropriate repairs from an approved contractor, the Amtrak striping is being removed, and the restoration of all sealed points of entry to the car that had become unsealed.