Submitted by Jerrad Bennett
Dents, stickers, and floors!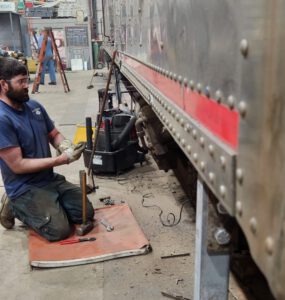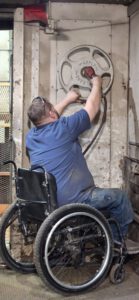 Wednesday Carl worked on removing the Amtrak stripping. Dave has been working on getting the west end doors cleaned up,  the new 3″ channel welded into the opening and the 10″ channel made for the floor.
This week, I built the 2 exhaust air ducts, Jeff,  Glenn (a new member) and myself reinforced the waisted car body supports at the doors on the east end with new channel iron.  We also cut and laid 3 more sheets of flooring.  The new floor now goes from the east end of the car to the middle of the east doors.
Now that we have flooring in the car,  Drew was able to get in the car and worked on disassembling the hand brake,  so it can be cleaned and lubricated.  Jim, sandblasted the air tanks, east end door, and its pocket. Steve spent the week straightening out steps and getting them bolted to the car.  He also worked on getting the cut levers bolted on and the locks working properly.
The biggest accomplishment this week,  was Matt Lee and Steven (another new member) working on straightening the bad dent in the northwest side of the car.  At one point in the car's life it was hit on the side and derailed the truck, causing major damage to the lower car body frame, body supports and floor supports. They did an amazing job at removing the dent and straightening the lower car body frame.
Work continues this weekend. Be sure to come out and lend a hand