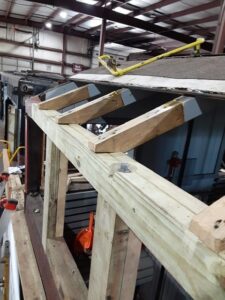 Submitted by DJ DePanicis
Last weekend saw much progress on the car which will lead to more new material being installed in many different areas. Friday, I spent the morning with a router cutting the openings out for the window frames. When we installed the siding, we covered the frames with siding so we would have material to take away when the frames needed to be opened. While I was doing this, Rich W. spent his time ensuring the fit of the North side cupola rafter extensions. The rafter feet had rotted to an unusable condition, however the rest of the rafters were still in great shape. We decided to use an existing rafter that was saved from the main car body to make the 4 extensions. The attached picture shows the rafter extensions along with the new cupola frame that is replacing the rotted existing frame. To hold everything together in the corners, a sheet metal corner bracket was made.
Rich also has material and a pattern to make the end hanging rafters. He and I decided to use a traditional finger joint to attach these pieces to the porch roof extensions. The new pieces will be made out of one piece and durable for many years to come.
With the cupola frame done, we can finish siding the north side of the car. Once the end rafters are installed, we can begin the process of roofing the car. With the material we have, the idea is to extend the roof out from the main car body over the porches. This will not only create a cohesive look from the inside to the outside, but will also create built in strength on the porch roof when climbing up the ladder to access the roof.
Looking ahead on the project, here are some items that need to be worked on:
– Attaching the 4 side grab irons
– Assess benches and repair as needed
– Determine the areas and methods for roof flashing
– Determine and purchase rubber roof material
– Determine what is reusable window frame material (interior and exterior)
– Make new frames as needed
– Repair name boards as needed
– Make new windows as needed
Work will continue next weekend. I plan to be out on Friday and may stay longer into the weekend depending on a performance that may or may not happen Saturday night. A few hands could make these next steps progress quickly. Please let me know your availability to work.
Thanks to everyone for your continued support of this project!
DJ
DJ DePanicis
Project Coordinator