Submitted by Carl Lyvers
534 Update
Much progress was made this summer including but not limited to
Cutting out, fabricating and fitting new pieces on the rear flu sheet to give us a good firebox.
Carl Lyvers and Steve Winicker continued efforts in obtaining ultrasound readings on 80% of the boiler with only the steam dome, interior of the firebox and the top of the external firebox remaining. Readings were offering positive results as to the healthiness of the boiler and firebox.
Carl Lyvers painted 2 protective coats of apexior to the interior of the boiler shell after being sandblasted by Jerrad Bennet.
As the busy summer months wind down future work will include continued efforts on the boiler and work on rebuilding the tender essentially from the ground up utilizing more modern trucks with roller bearings.
All skill levels are needed to help progress this project. It is a rare opportunity to get in on essentially the ground floor of a steam restoration project that will run. Please do not hesitate to contact Carl Lyvers or Jerrad Bennet at the email addresses below to find out how you can help.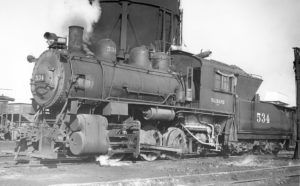 The wabash caboose work continues Contact DJ to get in on the email chain for that project at dj@fwrhs.org.
Work on the box car continues in the following weeks. Contact Rich Brinkley to get in on the email chain for that project at Brinkley@fwrhs.org.
358 is ready for electrical and plumbing work. Contact WD Miller to get in on the email chain for Project 358 at miller@fwrhs.org
534 work continues every weekend. Contact Carl Lyvers or Jerrad Bennet for information on that project at dmatrrt@frontier.com or bennet@fwrhs.org.