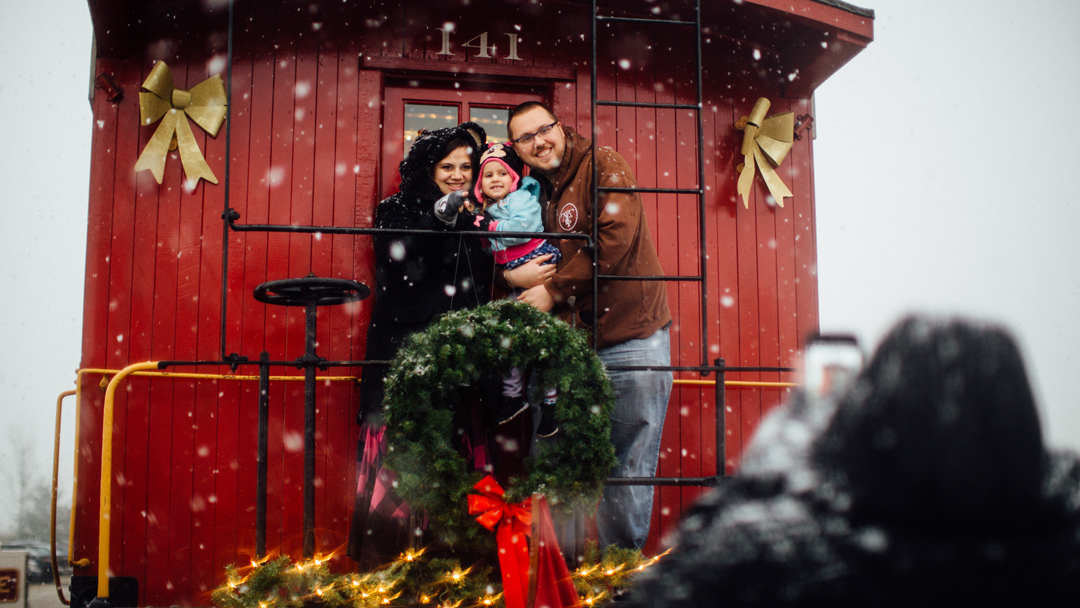 FORT WAYNE, INDIANA. – For the third year in a row, the Fort Wayne Railroad Historical Society's Santa Trains have sold out in under 24 hours. The popular event, which offers a 20-minute train ride with Santa Claus, has been expanded in 2016 to include extra days and has turned the society's restoration facility into Santa's Workshop.
"Each year the popularity of this event increases and our facility has been upgraded to not only accommodate more operating days but to improve the experience for visitors," said Bill Otter, president of the FWRHS. "The reception has been exactly what we hoped for. We wanted people to say 'wow' when they walked in the door."
Home of restored Nickel Plate Road steam locomotive no. 765, the society's facility on Edgerton Road received a concrete floor in early 2016 and equipment on display has been outfitted with Christmas lights, fog machines, music and sound effects for the occasion. While all trips for December are sold out, visitors are welcome during operating hours on December 10th, 11th, 17th and 18th.
Visitors are able to explore the 765, take their photo with the famous engine, visit a children's activity area and watch model trains on display before climbing aboard Santa's caboose. The trips are operated by one of the organization's vintage diesel locomotives.
"Since we began this event over 15 years ago, visitors would often have to wait for 2 hours or more which was unacceptable. With the improvements we've made over the years, the experience has become an annual tradition for so many families," explained Kelly Lynch, Vice President.
Following on the heels of the organization's record-setting attendance at its Open House in August, the Santa Train will host nearly 5,000 visitors throughout December.
The Santa Train is one of several operations included as part of Headwaters Junction, an attraction that will comprise Phase 1b of downtown riverfront development. The project will include a railyard park, roundhouse and tourist railroad enabling greater capacity for similar events, regularly historic railroad attractions and programming and events throughout the year.
Recent studies underwritten by Steel Dynamics, the Fort Wayne Community Foundation, the Schust Foundation and the railroad historical society have shown that Headwaters Junction could draw over 140,000 visitors to downtown and contribute $60 million in economic impact and that expanded facility could easily bring 20,000 people downtown during the holiday season. 20,000 more visitors were added to the initial projections after a connection to the Fort Wayne Children's Zoo was included as part of the project's initial phases.
Renderings can be viewed online at headwatersjunction.com. Additional news regarding leadership, grants and equipment acquisitions for the project will be forthcoming in 2017.
The 2017 excursion season for the 765 will be announced in the spring.