NEW HAVEN, INDIANA – The Fort Wayne Railroad Historical Society (FWRHS) made several important announcements today, revealing a major cosmetic change to historic steam locomotive no. 765 and releasing new renderings and information on its riverfront attraction project, Headwaters Junction.
"The 765 was preserved by the City of Fort Wayne to recognize how a successful railroad elevation project in the 1950s inspired a half-century's worth of progress. Today the engine has become an international attraction and can be the centerpiece in a new era of development," explained Kelly Lynch, Vice President.
With its planned annual programming and events  and the popularity of railroad attractions like no. 765, the project was endorsed by Legacy Fort Wayne in 2012 and recommended by SWA Group as a catalyst for the riverfront development in 2014.
Local developer Don Steininger and the railroad society have created an advisory board of community leaders and a separate non-profit organization to pursue the project. Earlier in 2016, a preliminary study demonstrated that as a stand-alone attraction, it could easily draw 120,000 additional visitors to downtown.
"Our board is excited at the possibilities that Headwaters Junction represents for future riverfront development. We are aggressively pursuing ways to make this a reality, " said Steininger.
Newly released renderings by Design Collaborative illustrate a mixed-use interpretive facility with event space, a 1940s-inspired restaurant, Cass Street station, rail yard park, turntable and a tourist railroad line connecting the Fort Wayne Children's Zoo to downtown. The roundhouse would be located between Harrison and Wells Street.
Planned events and programming at Headwaters Junction include regular and special holiday tourist train rides, a Rail Camp for children and young adults combined with other educational programming, visits from Thomas the Tank Engine and the Polar Express, interactive displays, exhibits and visiting historic equipment and much more throughout the year.
"Right now we'll 4,500 people in sixteen hours during our events in December, to say nothing of the thousands more that the 765 draws when it operates. We could multiply our attendance numbers by being able to host regular events, train rides and programs right along the heart of downtown," said Lynch.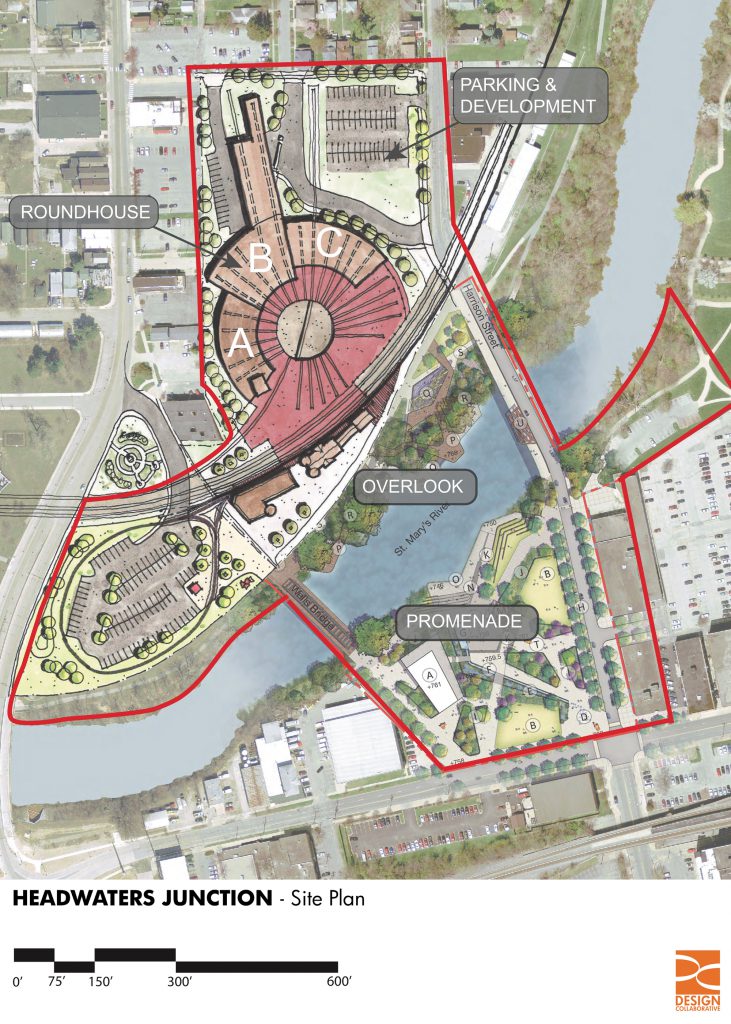 The project has been organized into three phases:
• construct a 15-24-inch gauge railroad to the zoo ($3-5 million)
• acquire land and right-of-way, construct railroad, install turntable ($3-4 million)
• construct roundhouse and interpretive facility ($8-9 million)
Headwaters Junction's advisory board is currently preparing grant requests and additional study work for this fall. Plans, rendering and additional information can be accessed online at headwatersjunction.com.
[imic_button colour="btn-primary" type="enabled" link="http://headwatersjunction.com" target="_blank" extraclass="btn-lg" size=""]LEARN MORE ABOUT HEADWATERS JUNCTION[/imic_button]
On Friday, the railroad historical society also announced a major cosmetic change to the 765. In a move to honor its unique history and the reason for its preservation, the 1944-built locomotive will be temporarily renumbered "767" – the same number it wore while on display in Lawton Park from 1963 to 1974. "767" was chosen to reflect the locomotive originally used to open the railroad elevation at the conclusion of the Elevate the Nickel Plate Campaign. Prior to donation, the Nickel Plate Road discretely changed the number on the engine because the original 767 had fallen into significant disrepair.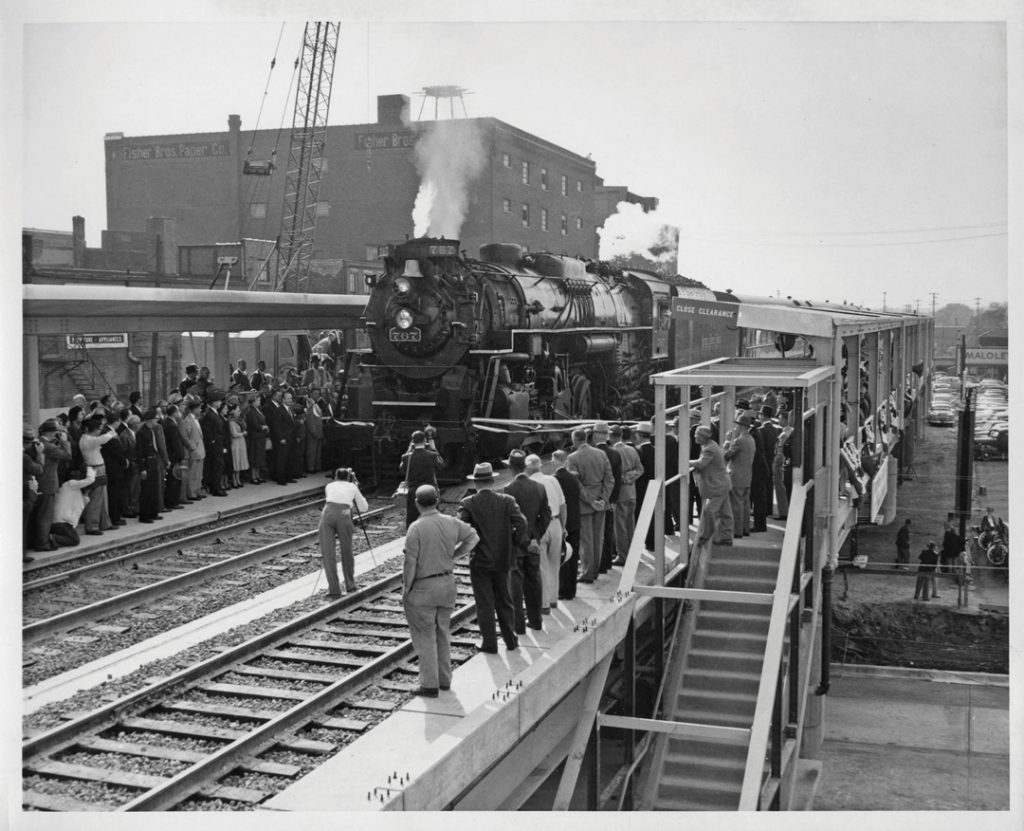 The renumbering, which is planned to remain for the rest of 2016, compliments other alterations made to reflect the locomotive's appearance before it was retired in 1958. Most noticeable is the addition of an extra headlight known as a Mars Light. Developed by the Mars Signal Light Company, the Nickel Plate Road added these to many locomotive in 1951 as a way to warn motorists and pedestrians of the oncoming train.
In 2013, the FWRHS was aided by a former Nickel Plate electrician from Frankfort, Indiana to repair the Mars Light, which had been removed in 1975 and used only sparingly since. Many railroad fans and historians recall the distinctive look of the Mars Light and have requested its reappearance for years.
For more information on the 767, we've posted the engine's colorful history here.
[imic_button colour="btn-primary" type="enabled" link="https://fortwaynerailroad.org/2016/08/the-return-of-the-767/" target="_blank" extraclass="btn-lg" size=""]LEARN MORE ABOUT 767[/imic_button]
The 765/767 will operate passenger excursion trains through the Cuyahoga Valley National Park in September. In December, the railroad historical society will host its annual Santa Train events. Ticket sales begin in November.
For more more information, visit fortwaynerailroad.org. You can volunteer or become a member here or donate to support the organization here.
[imic_button colour="btn-primary" type="enabled" link="https://fortwaynerailroad.org/giftstore/category/memberships/" target="_blank" extraclass="btn-lg" size=""]Membership[/imic_button] [imic_button colour="btn-primary" type="enabled" link="https://fortwaynerailroad.org/volunteer/" target="_blank" extraclass="btn-lg" size=""]Volunteer[/imic_button] [imic_button colour="btn-primary" type="enabled" link="https://fortwaynerailroad.org/donate/" target="_blank" extraclass="btn-lg" size=""]Donate[/imic_button]