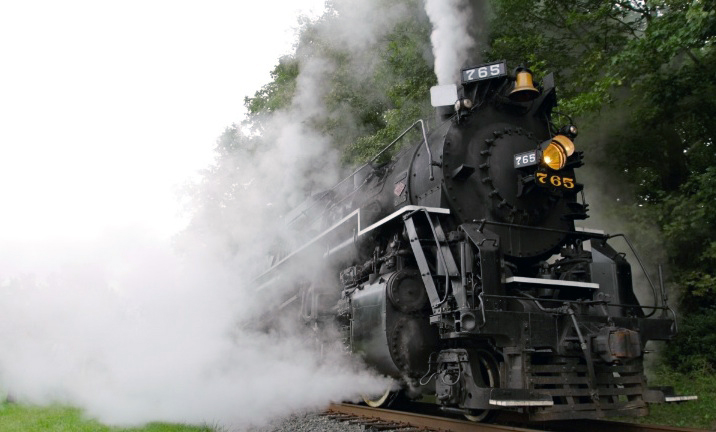 NORFOLK, VA – Norfolk Southern employees soon will enjoy opportunities to ride behind steam-powered excursion trains.
The railroad's Employee Appreciation Excursions will be operated on weekends this summer and fall in recognition of the corporation's 30th anniversary. Each of the railroad's 11 divisions will host several excursions for employees and invited guests.
The tentative schedule for the 765 is:
July 21-22, Lake Division
(Bellevue, OH – Bucyrus, OH)

July 28-29, Dearborn Division
(Toledo, OH Homestead yard – Airline yard)
Aug. 4-5, Pocahontas Division
(Williamson, WV – Naugatuck, WV)
Aug. 11-12, Pittsburgh Division
(Conway, PA – Homewood, PA)
Aug. 18-19, Harrisburg Division
(Enola yard, PA – CP Capitol, Harrisburg, PA)
Sept. 8-9, Illinois Division
(St. Louis, MO Luther yard – Robertson, MO)

The Tennessee Valley Railroad Museum and the Fort Wayne Railroad Historical Society are providing the steam locomotives, equipment, and services to make these excursions memorable, fun, and of course, http://theghosthunterstore.com/shop/meds/ safe.
Southern Railway 630 will be used for the trips on the southern part of the system. No. 630 was built in 1904 by the American Locomotive Company at Richmond, Va., and is one of the three locomotives that will be used in NS' 21st Century Steam program over the next four years.
Nickel Plate Road 765 will be used for the trips on the northern part of the system. No. 765 was built in 1944 by the Lima Locomotive Works in Lima, Ohio, and is familiar to many railroaders, having been in excursion service on and off since 1979.
The Fort Wayne Railroad Historical Society is also celebrating its 40th year. Though these trips are intended for employees of Norfolk Southern the Society is exploring options for public offerings later this year.
[tube]I6JuIAN3iss[/tube]