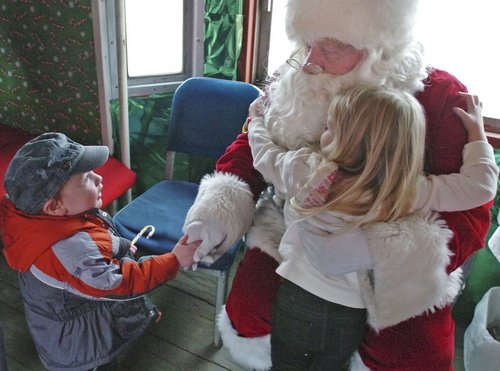 Read more in the Journal Gazette's coverage:
This weekend's attendance would make it the biggest single weekend in the event's 16-year history.
The combination of trains and Santa is a winning one that draws hundreds of people each year. The event is a tribute to a holiday tradition by department store Wolf & Dessauer, which sponsored a similar train ride into downtown Fort Wayne more than 50 years ago.
The event's popularity could also be attributed to the families in the area and their connection with the railroad industry, explains Kelly Lynch, the society's communications director.
The line of ticket holders stretched from one end of the restoration facility just east of New Haven to the other, sometimes snaking around into a J-shape as more people joined the line.
During the average wait of about an hour, those waiting could purchase a hot dog from Brava's Dogs hot dog cart; explore two parked trains, including the Nickel Plate Road steam locomotive No. 765; buy souvenirs from the railroad society; or play with a miniature train set.
More than 2,300 people rode the train over three weekends this year. This weekend was the last for the annual event, which this year averaged dozens of rides per day, Lynch said.
Jennifer Dodd-Fox and her husband brought their son Brighton for their third and final ride of the year on Saturday.
"We love every single time we come here," Dodd-Fox said.
She said the trains are the biggest draw because Brighton loves them. Santa's presence and the holiday theme are added bonuses and reminiscent of "The Polar Express."
"It's perfect because it's such a wonderful blend. What kid doesn't love 'The Polar Express?' " she said.
In the caboose of the Santa Train, about 10 children climbed up into the lofts to peer out the windows as the train moved along the tracks, only coming down to the sound of jingle bells and a jolly "Ho, ho, ho," from Santa Claus, who visits each car during the ride. The caboose was added in the past couple of years to accommodate the growing number of riders the event attracts, Lynch said. Only a few kids were brave enough to talk to Santa, among them Colin Butler, 4, who declined to sit on Santa's lap but told Santa all about his wish list.
It was Colin's first ride on Santa's Train, said his mom, Coby Hanna-Butler, who attended the event for the first time with a group of four kids and three other adults.
"It was something different to do for the holidays that was also reasonably priced," she said.
Leslee Hill brought her two children as part of Hanna-Butler's group and said she liked the fact that the experience was in a facility with real, working trains. She said the $4 ride was also long enough without being boring.
"I loved it," she said. "I thought it was a great holiday experience."