HEADWATERS JUNCTION
Described as "iconic" and "catalytic," Headwaters Junction is a year-round destination for recreation, entertainment and education. Inspired by Fort Wayne's history and the world-wide popularity of Nickel Plate Road steam locomotive no. 765, Headwaters Junction is poised to become a major riverfront attraction in downtown Fort Wayne.
Equal parts tourist railroad, railyard park and roundhouse, Headwaters Junction will be a new destination for recreation, entertainment, and education, providing the Fort Wayne Railroad Historical Society with an interpretive center for their collection and a railroad that connects the Fort Wayne Children's Zoo with downtown. With annual programming and events, the riverfront will come alive with the magic of Fort Wayne's famous trains.
In 2015, the project was officially adapted into the riverfront plan and in 2016, Headwaters Junction Inc. was officially formed as a 501(c)3 non-profit by a group of community leaders and FWRHS members. A series of marketing and feasability studies aided by over $100,000 in grants from Steel Dynamics, Greater Fort Wayne Community Foundation and the Schust Foundation established that the project would bring in 140,000 visitors and contribute $60 million to the local economy.
Endorsed by Legacy Fort Wayne as "big, bold, and transformational" and a "catalyst for the riverfront" by SWA Group, Headwaters Junction has been supported citywide and covered in the press as a plan that "represents the potential of downtown." In 2018, Headwaters Junction Inc. and its partners will submit bids to develop the former scrap and rail yard property at 4th and Clinton Street, across the street from where the 765 was once on display.
WATCH
VIRTUAL TOUR
RENDERINGS & INSPIRATION
RECENT NEWS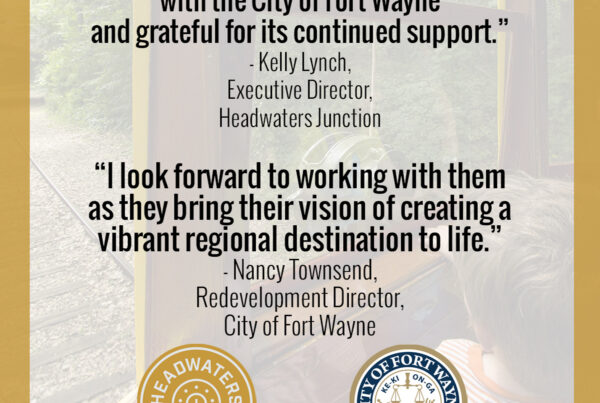 City and Headwaters Junction strike deal, partnership
July 13, 2020, FORT WAYNE, INDIANA – Statement from the Headwaters Junction Board of Directors…
ENDORSED BY
Riverfront Development Champion Team, Legacy Fort Wayne
Wells Street Historic Corridor and Business Association
Fort Wayne Trails
Arts United
Friends of the Rivers
Greater Fort Wayne
Downtown Improvement District
Friends of the Parks
Bloomingdale Neighborhood Association
Nebraska Neighborhood Association
Northside Neighborhood Association
Northwest Area Partnership
Fort Wayne Journal Gazette
SWA Group
Riverworks Design Group
Design Collaborative