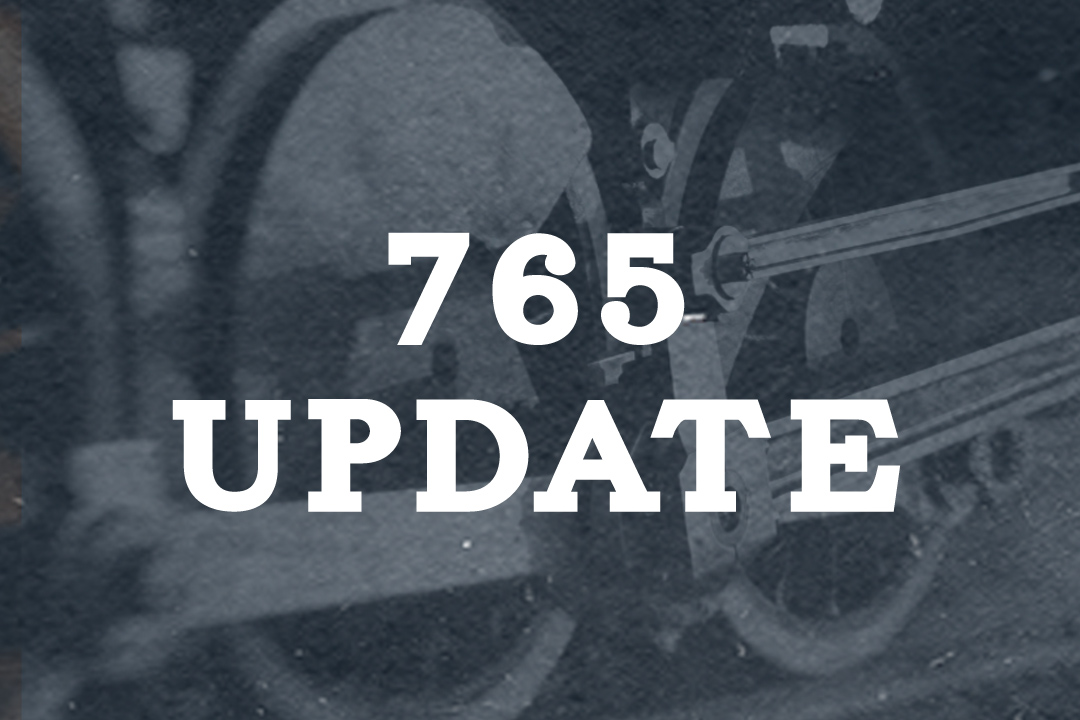 Submitted by Steve Winicker.
LAST WEEKENDS SHOP ACTIVITY
Friday, John and Bob finished up the blow down valve lapping and Jerrad and John were able to disassemble one of the boiler stop valves and clean and lap the seat on that. The other valve has so far resisted our efforts to take it apart. Jerrad hauled away the large lathe that has been residing outside for a year or so with the hope of preserving it.
Saturday, needlegunorama with all the societies needle guns running to get off paint and rust from the boiler shell.  Jerrad and John took down the last of the air reservoirs. So that last piece of boiler shell could be reached; then John began cleaning the belly of the boiler on the right side. Also, former crew member Kim Besecker brought an old mill the Society had loaned or sold him years ago. With the raccoons evicted the mice finished off a prodigious amount of cat food. Should be some fat happy mice around the shop. Apparently they are sleeping off the feast as I have not seen any.
Sunday, D J and Carl were needle gunning paint and rust and doing a great job. Brian and ______ trying to degrease the tender so it can be sanded and be made ready for a coat of paint. Jerrad hauled off the large mill which has been inhabiting a patch of gravel south of the shop for several years.
UPCOMING ACTIVITIES
The hydrostatic test is still scheduled for February 12th.  That means we must be ready for water next weekend.  Several large holes need to be filled – boiler stop valves on either side of the boiler, water column, and whistle to name the ones I remember off the top of my head.  The upper part of the boiler shell should be clean by the end of this weekend with only some sanding left before painting. Still plenty to do under the running board. I hope to largely finish the UT work next weekend, though there will be a few places to chase.
SAFETY SENSE
Compressed gases, including air, are used for a variety of tasks. We use compressed gases and the cylinders that store them primary for welding and a variety of less common things. Many of us use them at home for fueling a grill.
The convenience of compressed gas doesn't come without a price though . . . we need to store, handle and use them properly or the consequences can be devastating.
Here are tips for safely storing compressed gas cylinders.
Store all empty cylinders with their valves in the closed position
Securely attach cylinder valve caps
Separate cylinders according to their contents. Place oxygen cylinders at least 20 feet from any flammable gas cylinders or combustible materials an alternative is to store cylinder groups separated by a noncombustible barrier at least five-feet high and with a fire-resistant rating of at least 30 minutes
Identify empty cylinders with a tag, and store empty cylinders separate from full cylinders
Secure all cylinders while in storage and while in use
Assure all cylinder storage areas are well ventilated
Keep cylinder storage areas away from fire, potential electrical hazards and out of traffic areas
Ensure all cylinders are labeled to identify their contents. Do not trust the cylinder color code as identification method for cylinder content
Return any cylinder to the supplier if the label does not identify contents
Always store and use acetylene cylinders upright
Avoid dropping or striking cylinders.
Compressed gasses are a common core element of many projects. High pressure compressed gasses can be extremely dangerous if they are not stored and used following industry safety practices.