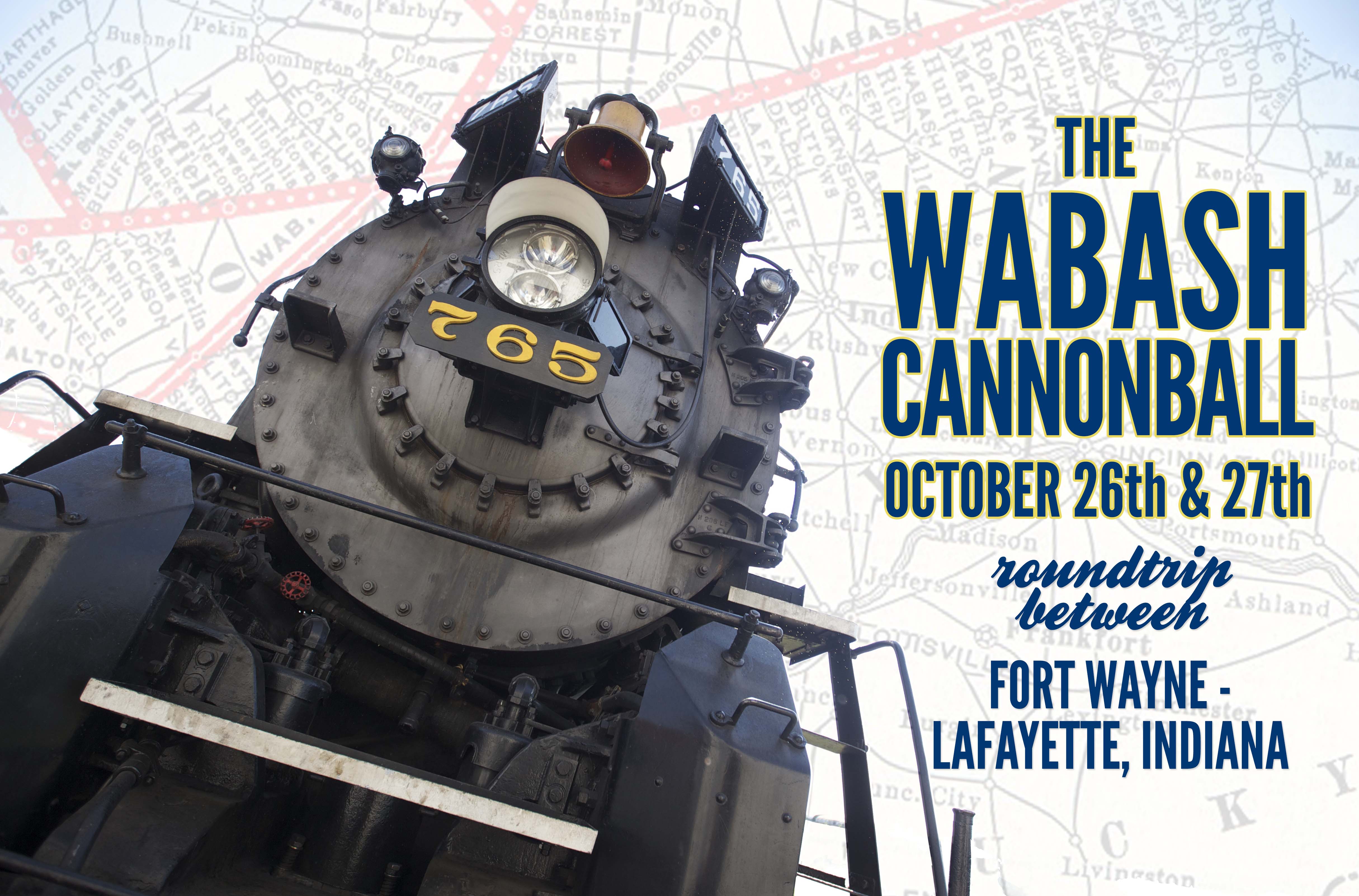 PARKING AND BOARDING AT 6502 NELSON ROAD, FORT WAYNE.
BOARDING TIME
DEPART FORT WAYNE
ARRIVE LAFAYETTE
DEPART LAFAYETTE
ARRIVE FORT WAYNE
8:00AM
8:30AM
12:00PM
2:30PM
6:00PM
On October 26th and 27th, restored steam locomotive no. 765 will operate a round-trip excursion each day between Fort Wayne and Lafayette, Indiana, retracing the route of the famous Wabash Cannonball passenger train. Sponsored by the railroad historical society in cooperation with Norfolk Southern Corp, the excursion will feature several coach class seating options aboard vintage passenger cars for the 230 mile trip. For frequently asked questions, ticket information and more, please read on.
TICKETS ADDED
Once purchased, passengers will recieve an email with their ticket for boarding. All passengers having purchased tickets on or about 9/1/13 will have tickets mailed.
Passengers will enjoy a day long trip behind steam locomotive no. 765, lunch and layover in downtown Lafayette along the Wabash River, on-board entertainment, and more. The train will be turned east before departure from Lafayette and arrive in Fort Wayne each evening. A list of restaurants and vendors with offers for passengers will be made available.
Passengers will be bussed from the train to downtown from the railroad yard as passengers cannot alight at the Lafayette Amtrak station. Trains will run rain or shine.
More details will be published as they become available. If purchased before October 10th, tickets will be mailed to passengers. Tickets purchased after October 10th will available at Will Call at the boarding site.
TICKETS
Ticket classes include standard coach aboard passenger cars with more modern interiors, deluxe coach aboard historic passenger cars with vintage interiors and reclining seats, and dome car and first class options are to be determined.
Child (4-15) and adult ticket prices are available in all classes and children (0-3) who do not occupy a seat are free. Society members are eligible for a 10% discount on coach class options
Families, groups, or parties traveling together are encouraged to purchase their ticket at the same time, under the same name. We will make every effort to accommodate groups traveling in the same class, but may not always be able to accommodate large groups over 16. Passengers with separate ticket classes will not be seated in the same car. Cars are assigned by class, seating aboard the train is administered by car hosts.
WAITLIST
The wait list has been closed.
SOLD OUT Standard Coach
$89.00, Children. $99.00, Adults. $89.00, Member.
Enjoy the day aboard a passenger car with more modern interiors.
ADULT, OCTOBER 26th
CHILD, OCTOBER 26th
ADULT, OCTOBER 27th
CHILD, OCTOBER 27th
WAITLIST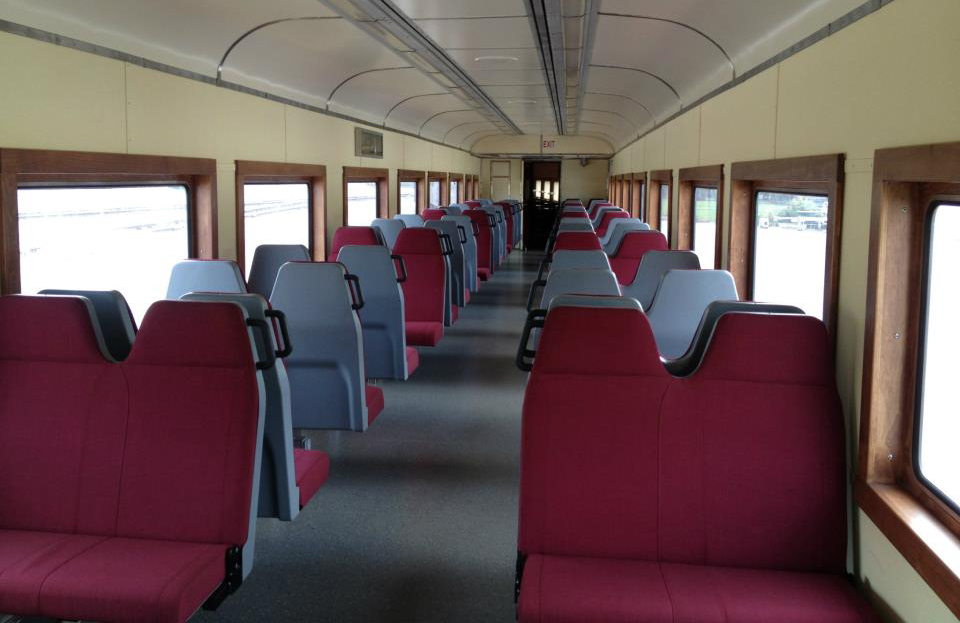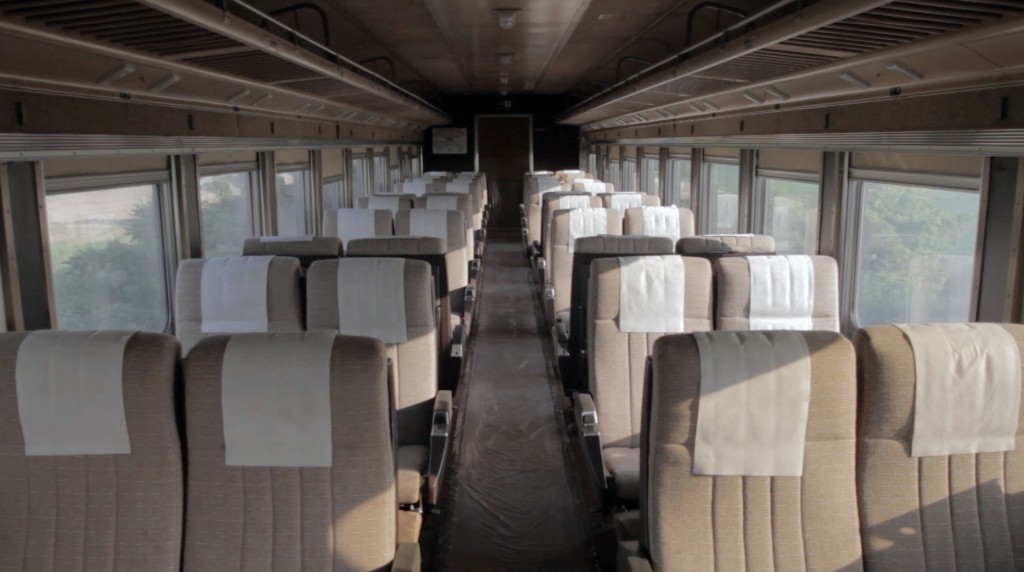 Dome Car
$299. Experience the Indiana countryside with amazing accommodations in the upper level of a full-length vintage dome car that will allow you to see the entire train. Box lunch, refreshments, and snacks included. These tickets are extremely limited.
SOLD OUT DOME, OCTOBER 26th
DOME, OCTOBER 27th
WAITLIST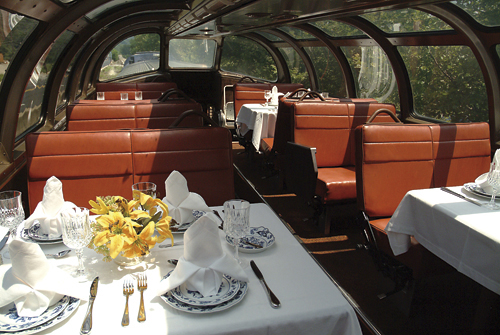 20th Century Class
Price $349. Experience the romance and luxury of first class lounge cars from the New York Central Railroad's 20th Century Limited, one of the world's most famous name trains, riding for the first time ever behind steam! Passengers will enjoy accommodations in the Hickory Creek and No. 43 each, and be rotated before the return to Fort Wayne. These tickets are extremely limited. Availability to be determined.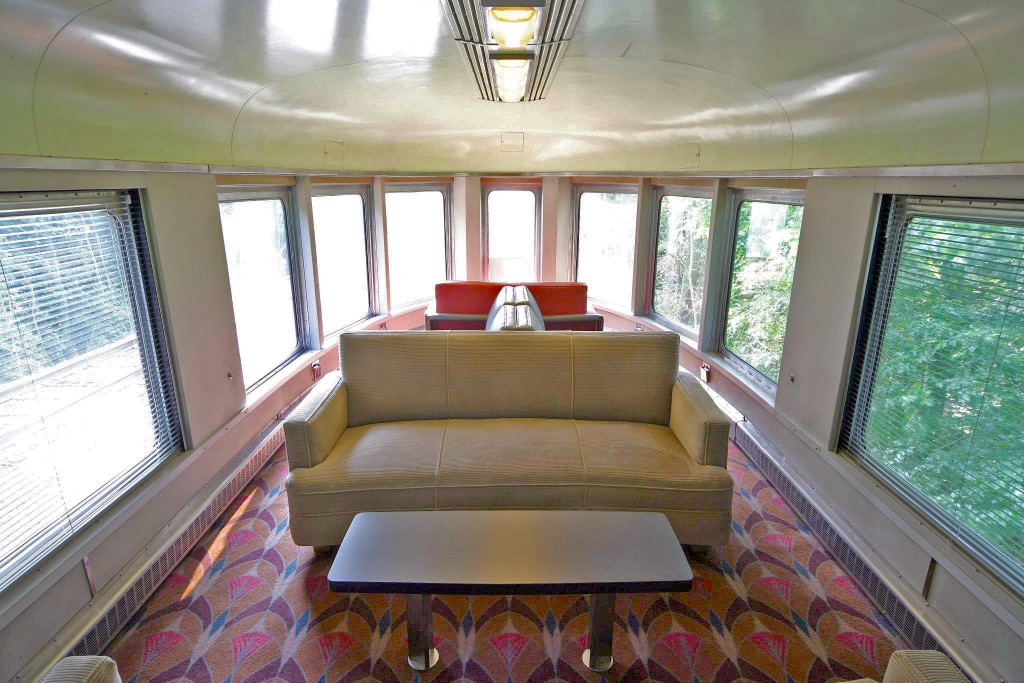 FREQUENTLY ASKED QUESTIONS
Frequently Asked Questions
Please expand the questions below for more information.
We strongly encourage that passengers wear comfortable, closed toed walking shoes. Sandals, heels, or open toed shoes are generally prohibited.
Are there restrooms aboard?
Nearly every car has its own restroom facility. In the event that a car does not have an operational restroom, the next car ahead or behind you will.
What if I use a wheelchair or have limited mobility?
We make every effort to accommodate passengers with disabilities. However, due to the historic nature of these passenger cars, they are generally not handicap accessible. Please contact us for more information before ordering tickets.
Snacks and refreshments will be available in the concession car, in the middle of the train.
Can I bring my own lunch or cooler?
You're welcome to bring your own lunch and a reasonably sized cooler. Due to railroad policy, no alcoholic beverages are permitted. Snacks and other refreshments are also available on board.
In the interest of an expediency and safety, no photo runbys are planned. Injuries are most likely during the boarding and alighting process, and suitable footing and boarding locations are difficult to come by. We commonly offer photo runbys during other operations throughout the year.
Are there any open window coaches or open vestibules?
Railroad policy does not permit open windows or vestibules. We commonly offer open window coaches and vestibules during other operations throughout the year.
No, but cars are. Car hosts will make every attempt to seat parties together. Car assignments will be forwarded to passengers no less than one week from departure. Groups riding together are encouraged to purchase their tickets and board together.
Refunds are granted only in the event that waiting list exists for that ticket. Refunds are subject to a 10% service charge.
Where/when will I get my tickets?
Tickets purchased before October 10th will be mailed to your shipping address. Tickets purchased after October 10th will be available at will call.
Where can I get more information on the excursions?
We'll be forwarding an excursion packet to all of our passengers with information on parking, boarding, times, and more.
Disclaimers
These trips are operated by the Fort Wayne Railroad Historical Society, Inc. (FWRHS), a 501(c)3 non-profit corporation, in a special partnership with Norfolk Southern Corp. All ticketing and event administration is handled by the FWRHS. Please do not contact Norfolk Southern or Amtrak regarding these excursions. Their offices, call centers and employees do not have information about these trips. For information on Amtrak discount codes for Amtrak travel related to these trips, please contact FWRHS.
Every effort will be made to operate trains as advertised, but as these are special, one-time events, the FWRHS and the railroad companies cannot guarantee times and assume no consequential liability for inconvenience or expense caused by delays. Please do not book other transportation or make reservations that are time sensitive. Due to the historic nature of equipment in use, we reserve the right to substitute motive power or rolling stock as necessary. Trains to run rain or shine.
Safety
These operations are dependent not only on financial success, but on the safety and responsibility of its patrons and supporters. Please observe all on-board safety requirements and instructions from railroad employees, car hosts, and locomotive crew. FWRHS and the railroad reserve the right to refuse any passenger who does not comply with safety rules or whose behavior is considered detrimental to other passengers and/or crew.
Passengers should wear sturdy, comfortable shoes. Flip flops, sandals, open-toed or high-heel shoes are prohibited. There are no separate runbys or photo stops planned. Vestibule doors will not be accessible when the train is in motion.
The possession or consumption of alcoholic beverages or illicit drugs on the train or railroad property is strictly prohibited. Small coolers and jugs for food and drink are welcome. Large coolers are prohibited due to space limitations. Smoking is prohibited on board the train.
FWRHS cannot guarantee the security of cameras and other personal property.
Accessibility
Most of the passenger cars utilized in these operations are historic in nature and exempt from ADA handicap requirements. Cars have narrow hallways, doorways, and small restrooms. Passengers traveling in a wheelchair or comparable assistive device are responsible for providing ticketed person(s) necessary to assist in loading, unloading or on board mobility. Passengers with limited mobility need to be aware of these limitations and should expect such situations.
Seating
Passengers who desire to sit together must make reservations at the same time and present themselves on the train together. Reservations will be made by car name or number but not individual seats. FWRHS will forward car assignments prior to boarding and departure.
Refunds
Refunds will be issued only if there is a wait list for that particular class of ticket.  Refunds are subject to a 10% service charge.
In the unlikely event of cancellation, FWRHS will refund ticket amount minus service fees. In the event of a rescheduled event, tickets would automatically be transferred to the new date, less any fees.
These excursions are a major fund-raising activity for historic rail preservation projects. All FWRHS personnel you see are volunteers.