Fort Wayne steam locomotive no. 765 will return to the mainline once again for a series of public and private trips this spring in an ongoing partnership with Norfolk Southern.
Last year, Nickel Plate Road no. 765 covered over 4,000 miles in Indiana, Illinois, Ohio, and Pennsylvania operating employee appreciation excursions for the railroad. These trips hosted 7,000 employees and their families and were powered by over 15,000 volunteer hours.
The spring excursion schedule will see the 765 and a fleet of vintage passenger cars on trips originating out of the Cleveland, Ohio area and in central Pennsylvania. Tickets for the public trips sold out in less than 24 hours in late February. Passengers are traveling from as far as Washington, New York City, Canada, Argentina, and Australia.
The public will have a variety of opportunities to experience the 765 throughout May as the 765 operates these excursions and travels on positioning moves ("deadheads") on the Norfolk Southern system. Members of the public are encouraged to use this information safely and responsibly, respecting railroad property and private property at all times.
"The Fort Wayne Railroad Historical Society has been a valuable partner," said John Irwin, Assistant Vice President of Norfolk Southern's Transportation Network. "The presence of a working steam locomotive offers the company the unique opportunity to express our appreciation to the men and women who run the railroad day in and day out. We are looking forward to our continued partnership and having the 765 as part of the 21st Century Steam program."
As part of its ongoing outreach efforts, the railroad historical society is also developing a  dedicated smartphone app that will allow users to track the locomotive's location and route, as well as have instant access to news from the organization throughout the year. Over 19,000 people downloaded an early version of the app last year. The society is also continuing work on an a feature length documentary covering the operation of the 765. The app is slated for release in May with the documentary release this winter.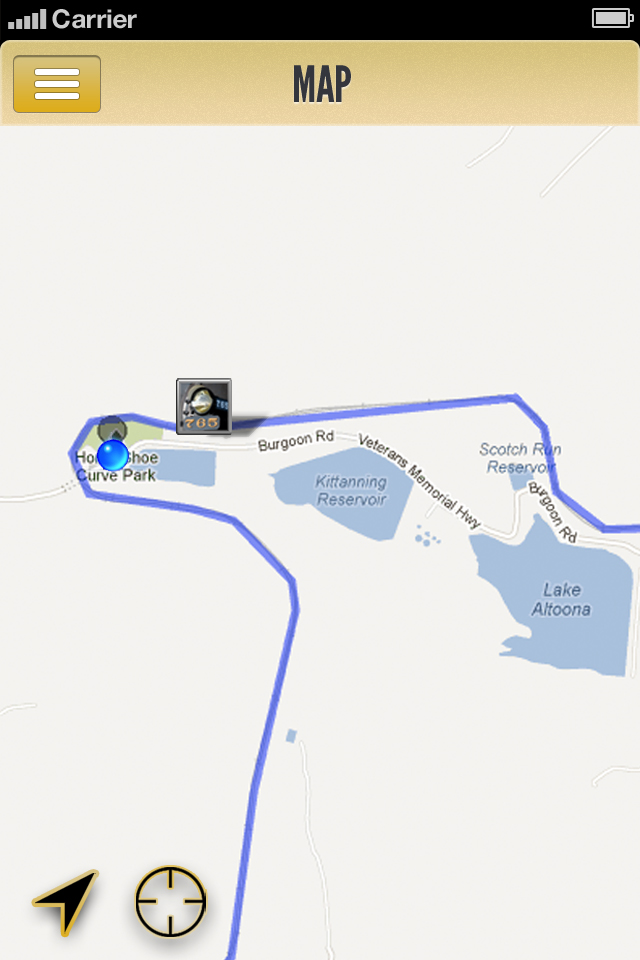 "The 765 creates a happening wherever it goes," explained Kelly Lynch, Communications Manager for the railroad historical society. "This relationship with Norfolk Southern allows us to bring a dramatic icon of American industry and innovation to hundreds of thousands throughout the year. Our mission is to bring outstanding, hands-on educational experiences to as many people as we can."
When not operating excursions, the 765 and other historic railroad equipment is stored at the society's restoration facility in New Haven, Indiana where tours and volunteer work sessions occur every weekend.
An excursion schedule for the fall is pending.
NEW SMARTPHONE GPS APP

The new app will be available for iPhone/iOS and Android operating systems in early May. The app will feature the 765's location and route, your location, as well as social media and news feeds from the FWRHS.
Sign up for our newsletter to be notified when its released.

OPERATING SCHEDULE, MAY 2013

The 765 will be operating ferry moves (commonly referred to as deadheads) to various terminals to position the train for excursions. These are non-revenue, non-passenger moves that do not operate on a schedule. We cannot comment on routing or scheduling for these moves. FWRHS members will be provided with a preliminary route map, though this information (including dates listed below) are subject to change due to transportation logistics.

Click here to download the schedule.
May 9:   DEADHEAD – Fort Wayne – Bellevue  – Cleveland (Rockport Yard)
May 11: Â Â  NS EMPLOYEE TRIPS – Rockport – Fairlane
May 12: Â  PUBLIC TRIP – Rocky River – Bellevue Round Trip
Departing from Rocky River Station
19060 Depot Street
Rocky River, OH 44116
May 13:Â  DEADHEAD – Cleveland – Conway – Altoona
May 18-19:Â  NS EMPLOYEE TRIPS -Altoona – Gallitzin (Horseshoe Curve)
May 23: Â Â  DEADHEAD – Altoona – Enola
May 25: Â Â  PUBLIC TRIP – Lewistown – Gallitzin Round Trip (Horseshoe Curve)
May 26: Â  PUBLIC TRIP – Lewistown – Gallitzin Round Trip (Horseshoe Curve)
May 27:Â  PUBLIC TRIP – Lewistown – Gallitzin Round Trip (Horseshoe Curve)
Departing from Lewistown Railroad Station
150 Helen Street
Lewistown, PA, 17044
May 29: Â  DEADHEAD – Enola – Altoona – Conway
May 30: Â  DEADHEAD – Conway – Cleveland – Bellevue
May 31:Â  DEADHEAD – Bellevue – Fort Wayne
OPERATING SCHEDULE, FALL 2013

To be announced. Sign up for our newsletter to be notified when its released.
Help support railroad preservation by using this information safely and responsibly. Schedule is subject to change without notice.